Field Blend #2 two ways – Redux
Submitted by
alfanso
on February 21, 2015 – 8:47am.
When last we left my Field Blend #2 first-time-out-of-the-cannon tome, I mentioned that there were lessons learned – aren't there always?  And that the next time through I'd be applying the scaling, mixing and shaping with my own two grubby hands, now that my sister in law had just about enough of us and skipped town 😉 .
Last night I decided to not shape a second boule and bake it on the oven's tile deck as I did in the first iteration.  Instead I had the bright idea, not to mention near obsessive idea, of getting back to my dark little world of baguettes.  I divided the dough into two, and shaped one for the Dutch Oven-bound boule.  The second half I divided, unevenly, into two and pre-shaped them for baguettes.  And so onto a couche and into the fridge they also went for overnight retardation.
As the DO boule was baking I shaped the baguettes and couched them again.  Back they went into the refrigerator to await their own fate and to relax while getting used to being baguette shaped pieces of dough.  Once the boule was finished, the baguettes were scored, steamed my standard way and baked.  and here are the results.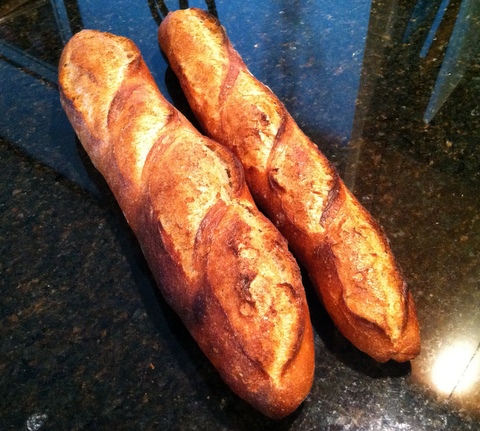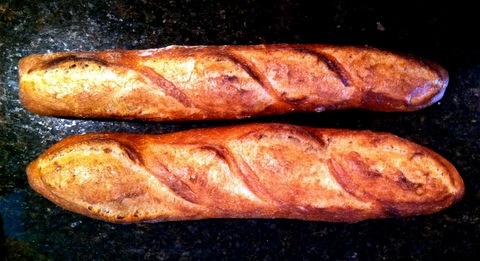 As you can see, I did manage to get a better doming of the boule than the prior effort, and a lot less raw flour on the surface of the boule.  Just rice flour on the banneton, and used no flour on the bench at all when I released the boule from the banneton this morning.  Next time out, whenever that may be, I think that I'll retard the boule seam side up so that I can score them myself.
The "gros baguettes" came out as well as I could have expected.  Except, as I relish a dark bake, these should have remained in the oven for another 2-3 minutes each.  The 270g baguette baked for 22 minutes, the 465g for ~25 minutes.  That's the post bake weight, so they are pretty heavy for home oven baguettes, hence my addition of the term "gros".
There's always room for improvement, but I can't say that I'm anything but pleased as to these results.  Since one or two are going out the front door destined for friends, and I don't know which yet, it would certainly be the un-neighborly thing to do by cutting them open to inspect the crumb,  That part of the equation shall remain a temporary mystery.
Source: Fresh Loaf