Submitted by
Alchemist42
on March 2, 2015 – 6:23am.
Hello all.  What a great place. I've been baking bread 30+ of my 45 years.  In the last couple of years I have discovered natural lavains and high hydration doughs ala Tartine like so many others.  My current goal is is a 100% whole wheat loaf inspired by this:
http://www.thefreshloaf.com/node/33735/home-bread-fighting-gravity?destination=node/33735
This is yesterday's progression loaf at 50% whole wheat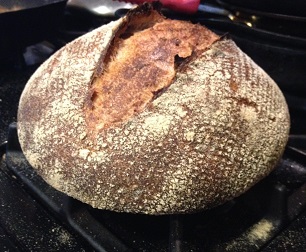 Off to find a little input about a couple issues.
John
Source: Fresh Loaf