Overnight Country Blonde, well sort of . . .
Submitted by
Skibum
on June 23, 2015 – 1:28pm.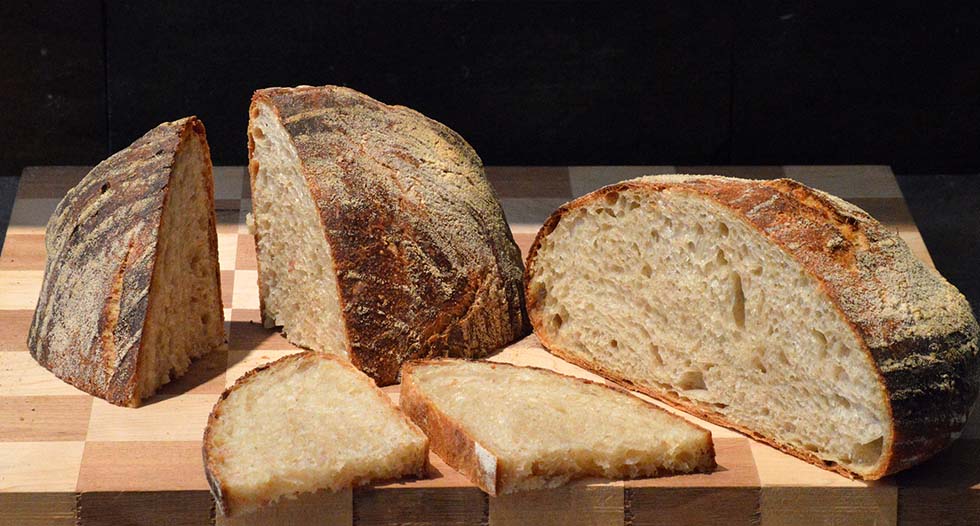 Satisfying to get a good result on my latest take 6. Takes 4 and 5 were over proofed with my new summer kitchen temperatures. All winter and spring my kitchen was a steady 68F Now that we have real summer it is running 73-75F and BOY does this temperature change mess with bulk rise and proofing schedules!
With take four, I took the bulk rise time down to 8 hours from the 12-14 hours Ken rec's @ 70F. WAY too long. I got up to check in at 4:00 am after 6.5 hours bulk and it was already gone.
Okay, for take five, we will try an all day country blonde: Start the levain at 6:00 am, mix at 12:00 pm, finish bulk at 7:00 pm and proof and bake at 9:30. Still WAY over proofed.
For this successful bake, I started the levain at noon and mixed at 5:00 pm. With 30 minutes after the first S&F, the dough had risen by more than 1/3, so I dropped the next rest to 20 minutes and the final 2 S&F's to 15 minutes rest. I then rested the dough for 45 minutes and did a final fold at 8:00 pm. The dough had nearly doubled by this time, so the only way to save things was into the fridge overnight.
In the morning two hours on the counter, shape and proof for 1:40 rather than the 3:30 -4:00 rec'd at 70F. This baked at 475F in a covered DO for 25 mins and a further 25 mins uncovered, turning at the half.
I really like this formula! Happy baking folks!!! Ski
Source: Fresh Loaf