Pletzlach – Polish Bialys
Submitted by
Shai
on March 21, 2015 – 1:01pm.
Hello all, 
I wanted to share toady's bake of bialys.
They are plump, airy, soft, with a moist, slightly sweet crust, with a very nice flavor, and a soft yet chewy crust.
The filling is of poppy seeds and caramelized onions, the way may grandmother, who grow in Poland, used to bake them for my mother when she was a child. They used to call them "פלצלעך" – Pletzlach (plural for Pletzel).
Her recipe is lost, so I constructed this one, with a dough based on my usual pizza recipe, with adaptations in hydration and fat, as well as adding 7% WW flour. I also referenced Jeffry Helmsman's recipe while creating this one.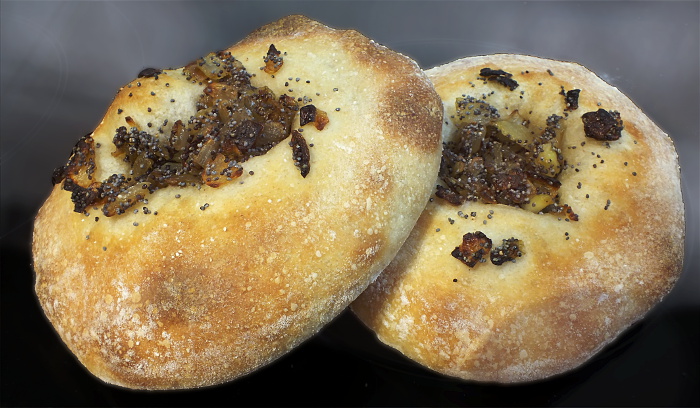 This recipe is for 8 bialys, baked in two batches. 
Ingredients:
400g strong bread flour (93%)
30g whole wheat flour (7%)
8.5g salt (2%)
6g instant (active) yeast (1.4%)
12g honey (2.8%)
265g water (24 deg C) (62%)
8g soft butter (1.8%)
Onion filling:
2 large yellow onions (about 350g unpeeled, 270g peeled), finely cut (0.5cm wide square pieces)
15 g butter
20 g whole poppy seeds
0.5 teaspoon salt
Melt butter in a small pan and fry the onion over medium heat until caramelized and medium brown. Try not to scorch it. Add poppy and salt, mix well and chill.
Making the dough (1 to 3 days ahead of baking):
In a mixer bowel, with the dough hook, place all of the ingredients except for the butter.
Mix on low speed to combine – 30 seconds.
Mix on medium speed for 2 minutes.
Cover and rest for 15 to 20 minutes.
Mix on medium speed for 2 more minutes. 
Add butter and mix for 4-5 minutes, until the dough is strong and firm. It should be smooth, dense and slightly tacky.
Lightly grease a bowl and place dough inside. Lightly coat the top of the dough with oil.
Refrigerate for at least 24 hours and up to 3 days.
Preparing and baking:
 About 2.5 hours before planing to eat the bialys, remove dough from fridge.
Pour the cold dough on a lightly floured surface, try not to pull or stretch the dough.
Very lightly flatten the dough, divide to 8 equal pieces, 90g each.
Cover with a towel to keep the dough pieces from drying while not working with them.
Pull in the sides of each piece upwards and inwards to form a ball with tight surface area – slightly like a dumpling in shape.
Pinch the top shut.
Roll to form a smooth ball.
Dust with flour on both sides and place on a well floured surface. Cover with a towel.
Repeat with all pieces.
Proof for 2 to 2 1/4 hours (my room temp is 23-24 deg C, adjust proofing time accordingly)
45 minutes before proofing ends, heat oven to 260 deg C (500 deg F).
When fully proofed, the dough balls should be double in volume, soft, airy and quite tacky.
My oven baking sheets can only take 4 bialys at a time. So 4 of the balls are placed covered in the fridge, while I bake the first 4.
Over a well floured surface, slightly flatten the dough ball, pop any very large bubbles that may form.
Hold dough disc in both hands using the thumb and finger, stretch the dough to a disc with a very thin center, like when forming a pizza. The rim should be left unstretched and airy and be about 0.5 a cm in width.
Place the dough on the floured surface, lightly flour on top, and stretch with both hands form the inside outside, in a circular motion. The dough should look like a small pizza and have a 13-15 cm diameter.
Place the dough on a baking sheet covered with parchment. If needed, adjust to restore a round shape.
Place 2 tablespoons of the filling on the dough and spread almost to the inner side of the rim.
Bake in the preheated oven for 9 to 10 minutes, until the bialys are plump, light golden-brown on their sides, and a nice medium brown on top. They should not be to dark, and shouldn't be evenly colored. Hover, they should not be pale.
Remove and place to cool on a wire rack.
While the first batch is baking, remove the second one from the fridge. Shape and bake the same way. The second batch might take up to a minute longer to bake.
Let chill for 10-20 minutes minimum. Serve warm (they can be re-warmed in the oven for a minute or so of needed).
Happy Baking!
Source: Fresh Loaf