Sprouted 3 Grain Sourdough with Pecans, Cranberries and Malts
Submitted by
dabrownman
on April 3, 2015 – 11:17am.
Lucy was going to do something else but came back to one of my favorites – Mediterra's Pecan and Cranberry Sourdough.  This great bakery, located in the small AZ town of Coolidge, AZ, supplies the local Whole Foods with some of their upscale breads – including this one.  Here is there web site http://mediterrabakehouse.com/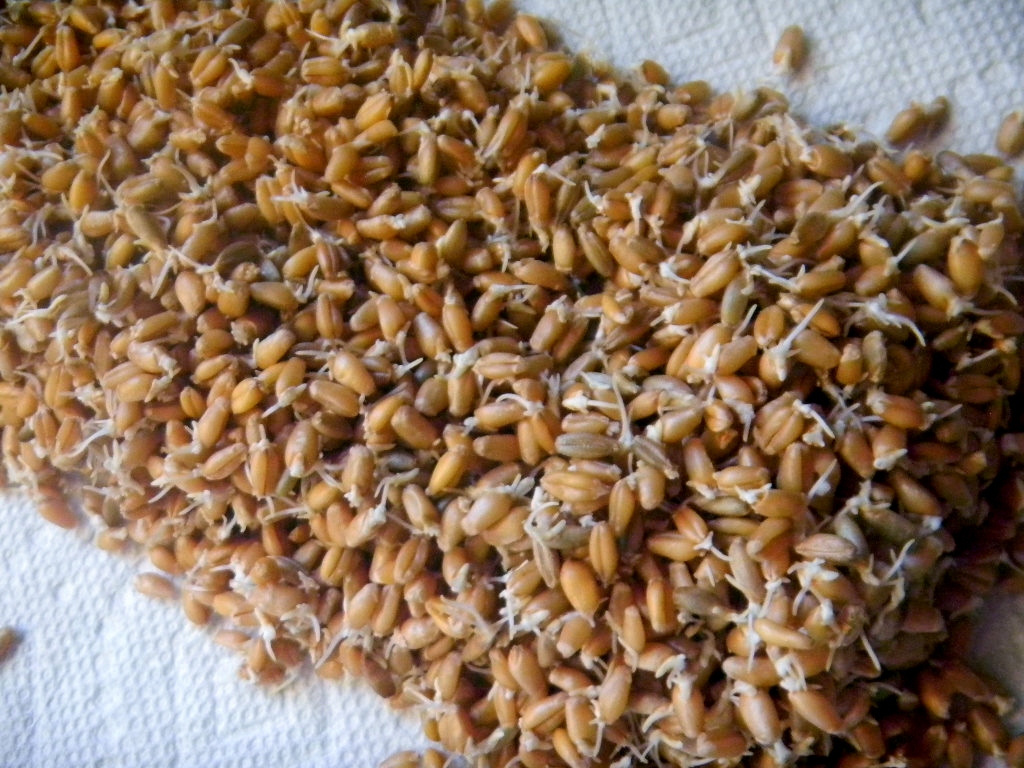 I think Lucy has improved this bread in the past by increasing the whole grains and adding the whole spelt to the rye and whole wheat mix.  Now she made the whole grains spouted, home dried, freshly milled and added the red and white malts too.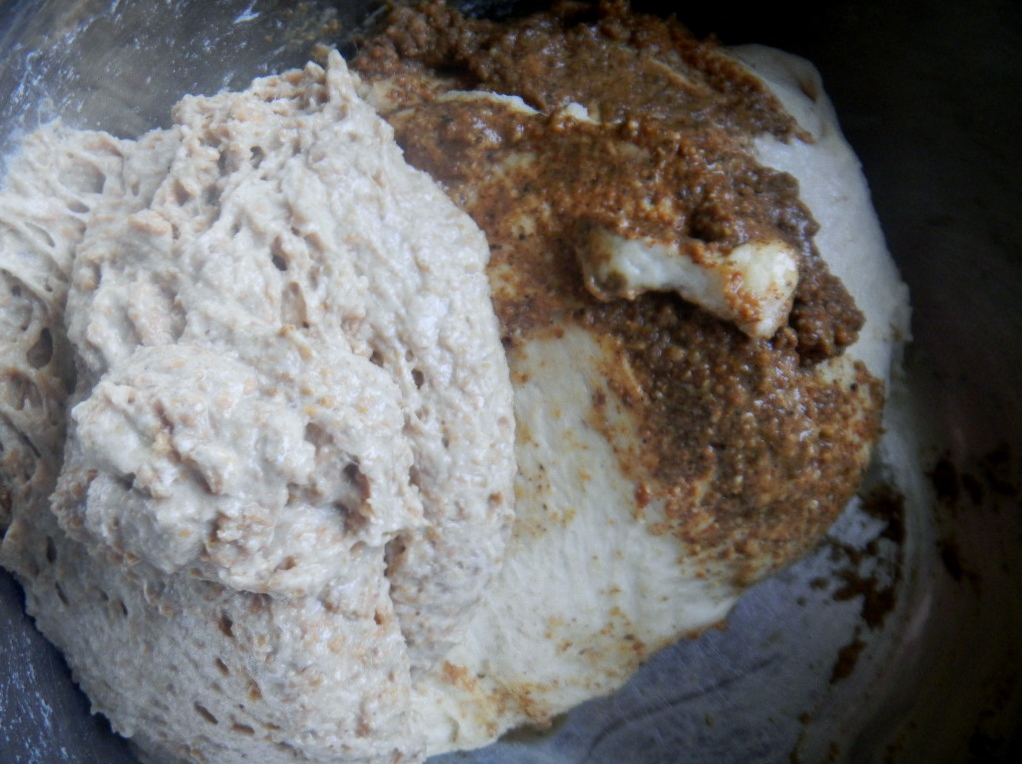 The hard bits sifted from the sprouted whole grains were fed to the starter in the first and 2nd feeding to get them wettest the longest and then the remaining extraction as used in the levain and dough flour to make the whole grains come out to 35% and the levain to almost 16 %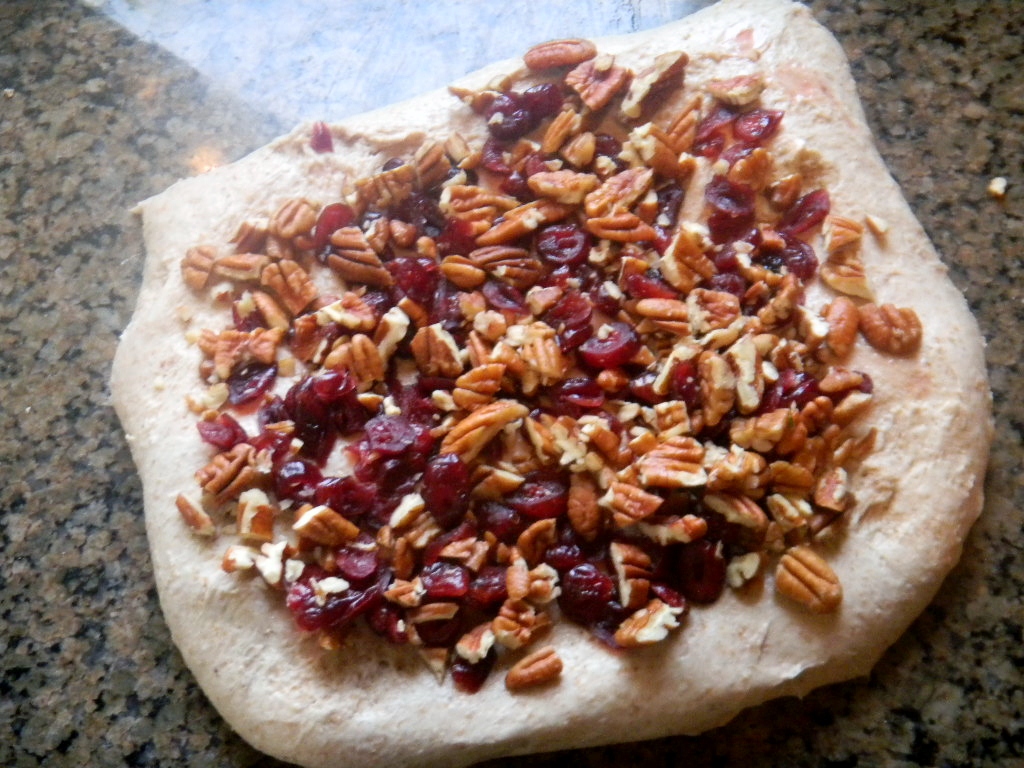 The levain was very active since the kitchen has warmed up to 86 F already!  The 2nd stage doubled in 3 hours and the 3rd stage doubled in 2 and we had already cut the first stage to 2 hours for 7 hours total – super fast even though this retarded starter had been in the fridge for only 2 weeks and it had 10% KA bread flour in it instead of a complete whole rye.  We then retarded the built levain for 24 hours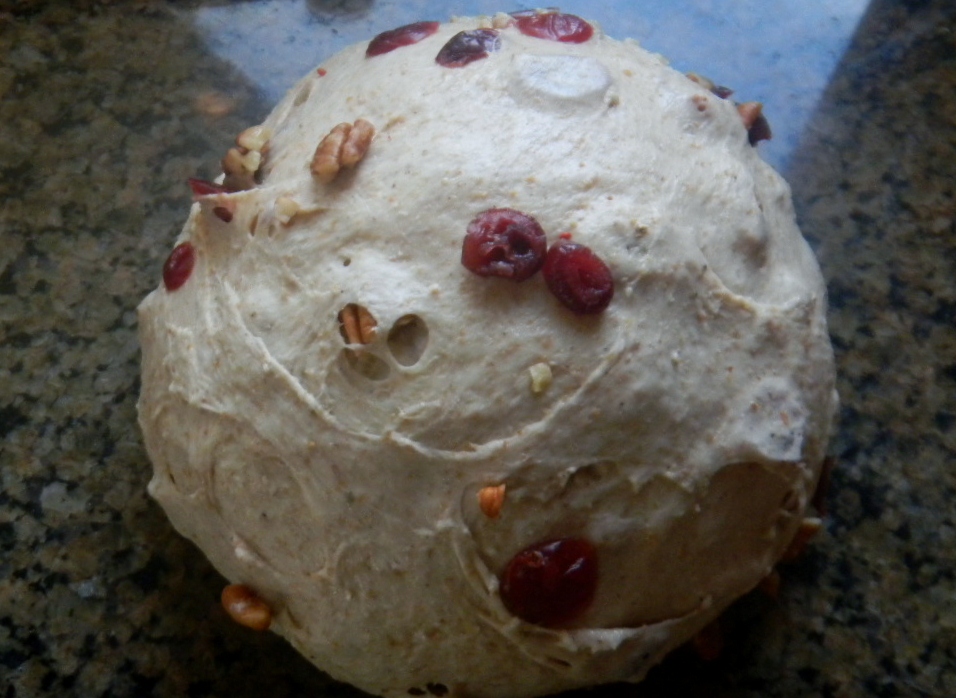 We did a 1 hour autolyse with the malts, dough flour and water, no baked scald this time, as the levain warmed up on the counter.  Once the levain hit the mix, we did 3 sets o0f slap and folds of  8, 1, 1 minute to get the gluten developed and 3 sets of stretch and folds to get the pecans and cranberries distributed evenly. All were done on 20 minute intervals.
We let the dough bulk ferment for 1 hour on the counter before pre-shaping and shaping of the dough fat batard style and placing it in our long lined batard basket seam side up . The Mediterra shape for this bread is a squat torpedo, slashed twice and baked seam side down.  Ours is a much bigger batard so we slashed it 3 times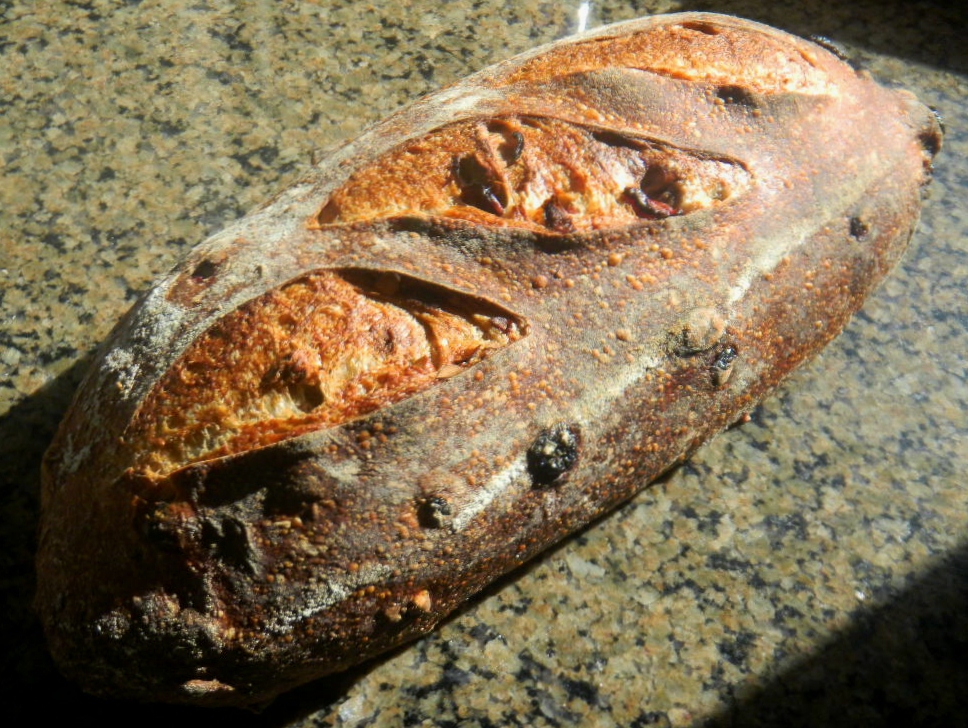 Like gargantuan, squat is a word not used enough for some reason.  None the less we bagged the rice flour, basketed dough and chucked it in the fridge for 14 hours of final proofing.   It looked like it might have over proofed in the fridge so we baked it straight out of the cold on the bottom stone using Mega Steam at 450 F for 15 minutes.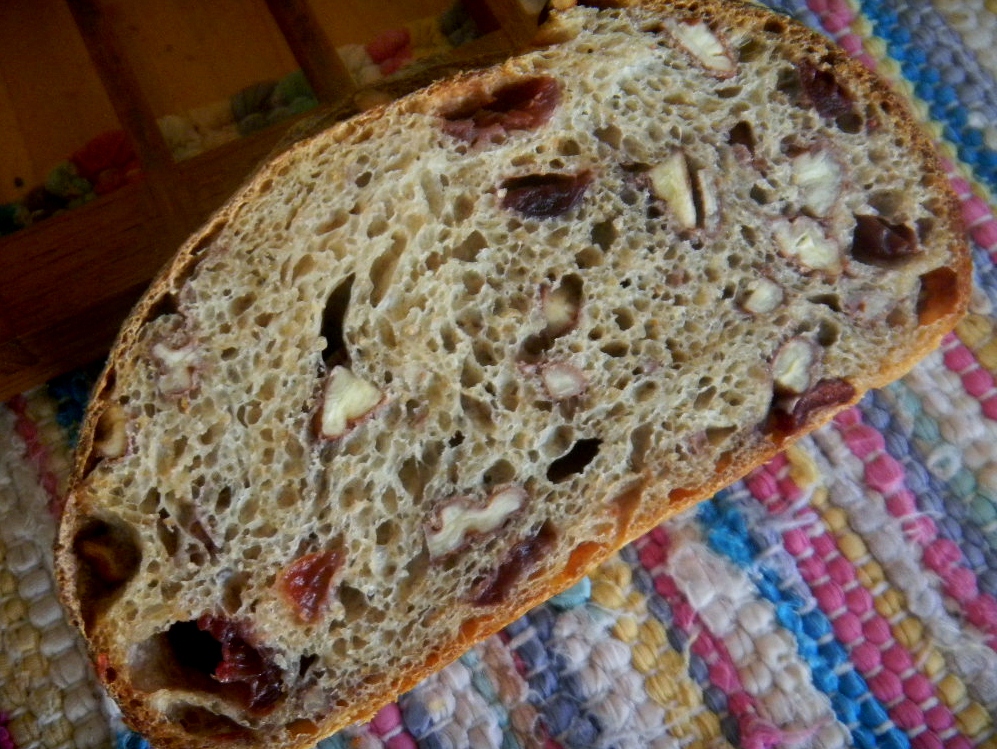 Once the steam came out we turned the oven down to 425 F – convection this time and continued to bake until the internal temperature was 208 F when we tuned the oven off leaving the bread n the stone door closed until it read 210 F.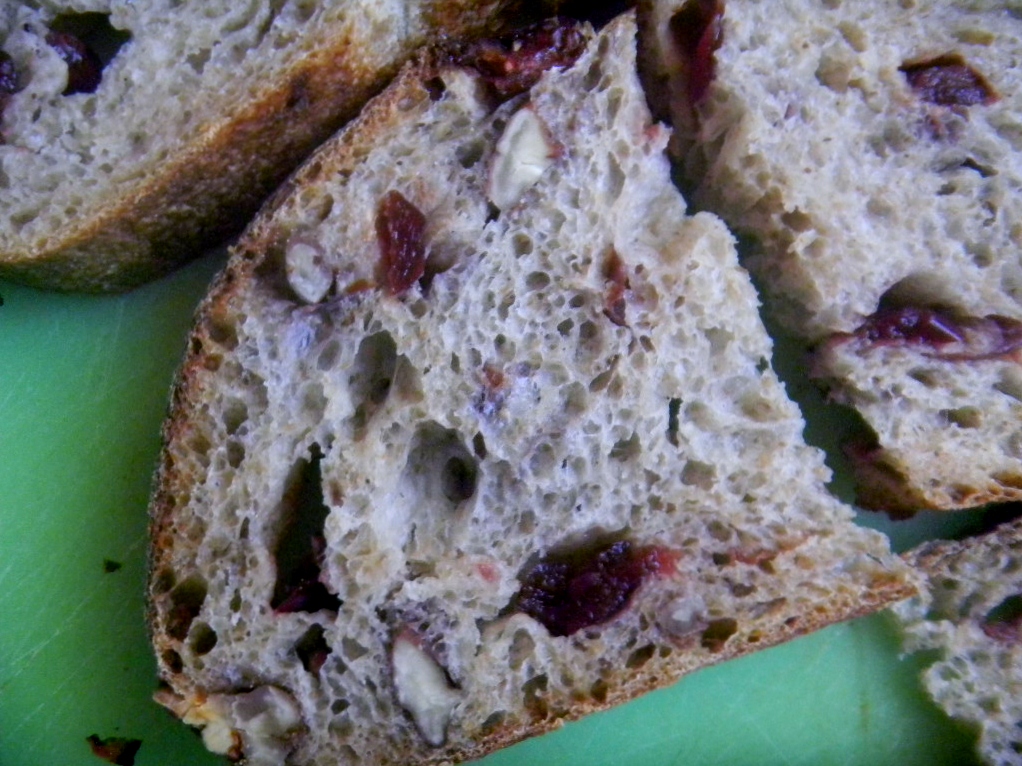 It sprang, bloomed, blistered and browned well enough.  Not a bad looking loaf on the outside overall.  We will have to wait on the inside.  The crumb came out fairly airy and nicely moist and soft.  This bread has the slightly sweet taste of the cranberries and the pecans really come through.  Still this bread's fine flavor is mainly due to the sprouted whole grains and the red malt.  We just love the crust.  It went soft and chewy as it cooled but the toast with butter is exceptional – mu wife says it is the best toast she has had in a while.  Another fine bread that Lucy has mainly stolen and added too.Now we are waiting for the Good Friday tradition Poolish Hot Cross Buns to finish proofing,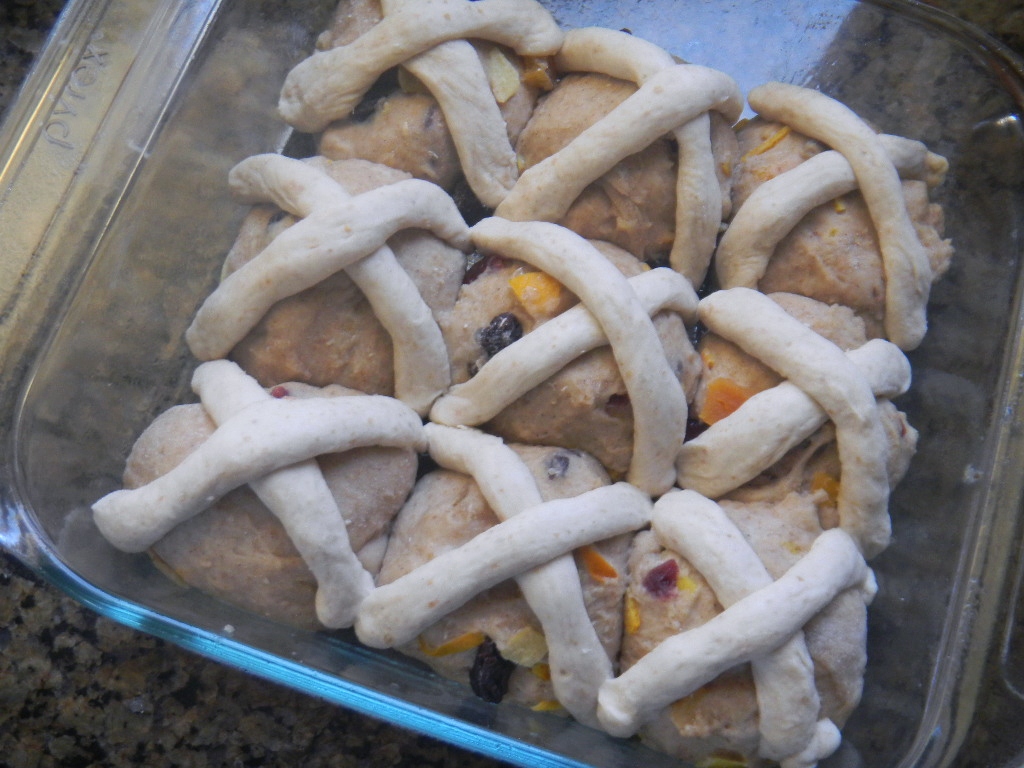 SD Levain Build

Build 1

Build 2

 Build 3

Total

%

2 Week Retarded Rye Sour Starter

10

0

0

10

2.16%

15.5% % Extraction Sprouted 3 Grain

10

10

0

20

4.24%

84.5% Extraction Sprouted 3 Grain

0

10

40

50

10.59%

Water

10

20

40

70

14.83%

Total

30

40

80

150

31.78%

 

 

 

 

 

 

Levain Totals

 

%

 

 

 

15.5% % Extraction Sprouted 3 Grain

75

15.89%

 

 

 

Water

75

15.89%

 

 

 

Levain Hydration

100.00%

 

 

 

 

Levain % of Total Flour

15.89%

 

 

 

 

 

 

 

 

 

 

Dough Flour

 

%

 

 

 

84.5% Extraction Sprouted 3 Grain

62

13.14%

 

 

 

Ka Bread Flour & LaFama AP 50/50

325

68.86%

 

 

 

Total Dough Flour

387

81.99%

 

 

 

 

 

 

 

 

 

Salt

10

2.16%

 

 

 

Water

264

55.93%

 

 

 

 

 

 

 

 

 

Dough Hydration

68.22%

 

 

 

 

Total Flour w/ Starter

462

 

 

 

 

Water

339

71.82%

 

 

 

 

 

 

 

 

 

Hydration with Starter

73.38%

 

 

 

 

Total Weight

1,075

 

 

 

 

% Whole Sprouted Grain

35.38%

 

 

 

 

Pecans

72

15.25%

 

 

 

Cranberries

72

15.25%

 

 

 

 

 

 

 

 

 

5 g each of red and white malt were mixed with 25 g of water and added to the autolyse

 

 

 

 

 

 

3 grain sprouted flour is equal amounts of wheat, rye and spelt

 

 

 

 

 

 

 

 

Hydration with baked scald is

77.12%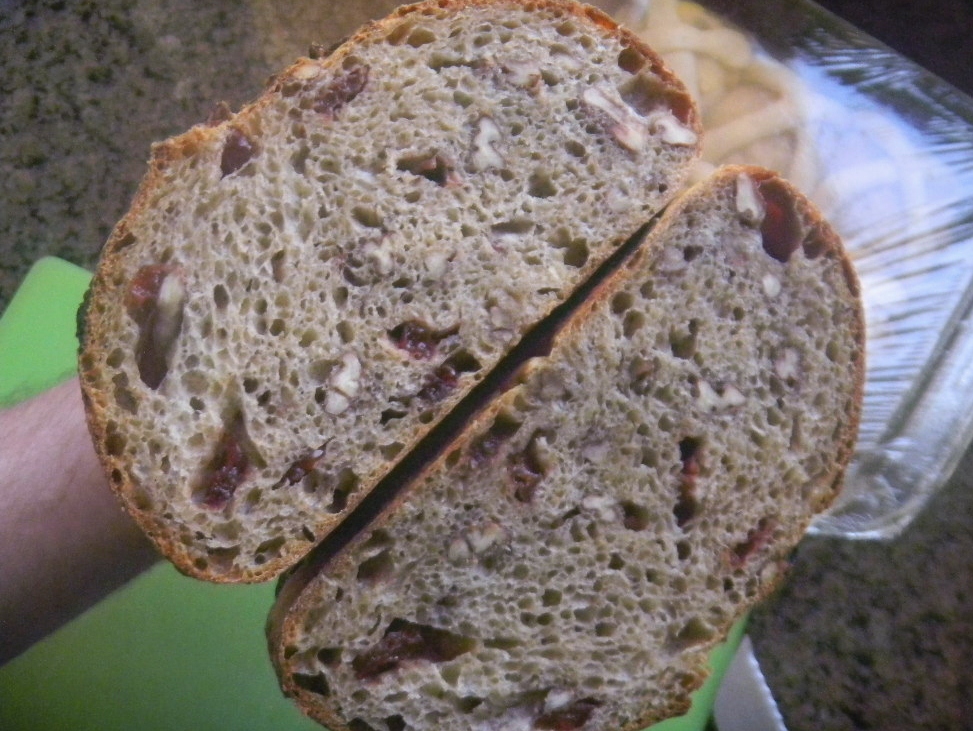 Source: Fresh Loaf