Sprouted 4 Grain, Cheese, Jalapeno, Polenta and Baked Scald Sourdough
Submitted by
dabrownman
on April 10, 2015 – 12:01pm.
Lucy was beside herself this week after she found out that folks will be getting head transplants pretty soon.  She immediately wanted to have her fellow Swabian Hero, Einstein's head transplanted onto her cute little stubby legged body.   I old her that a brain, even one as good as her hero's, that has been sitting in formaldehyde for 60 years probably wasn't a good pick.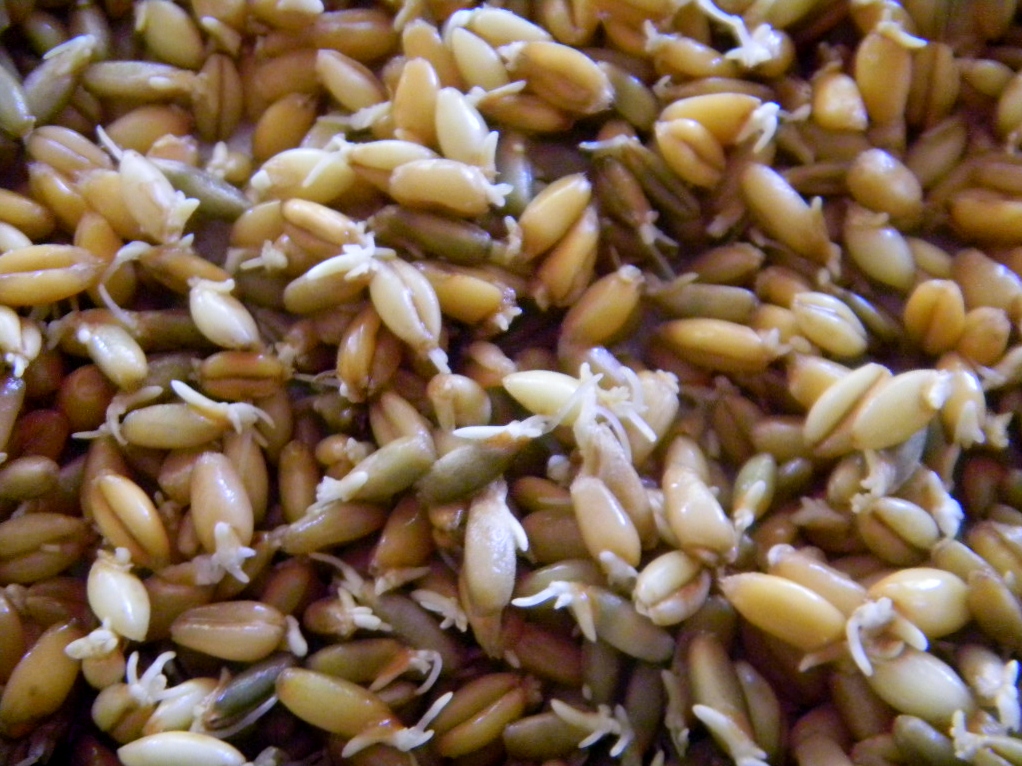 But you know Lucy.  She just wouldn't give up on the idea – pretty much like the recipe for this bread.  She has been wanting, for some time now, to bake a polenta bread and one based on the fine cheese and jalapeno bread we had at Sunflower Bakery in GalvestonTexas.
As luck would have it, I found a box of pre made cheese and jalapeno polenta in the discontinued cart at Sprouts and brought it home a few weeks ago.  Like she always does, Lucy out 2 and 2 together to get her usual bread mash up by adding addition sharp cheddar cheese and sautéed fresh jalapenos to the mix.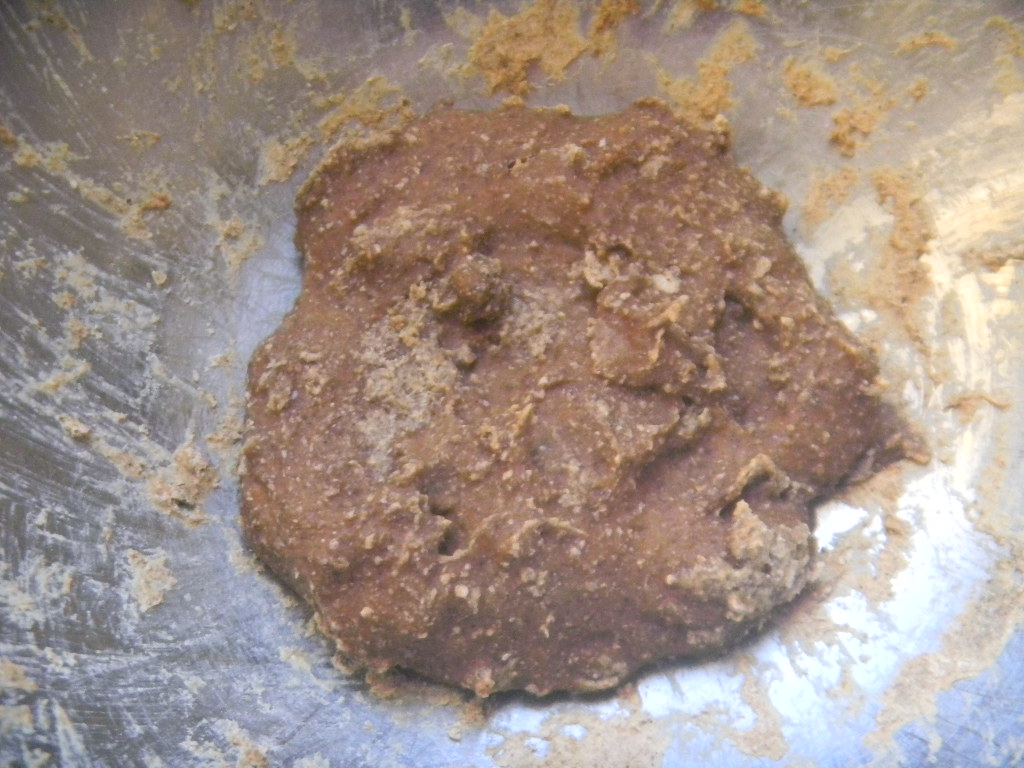 She used 40% whole sprouted grains consisting of spelt, barley, rye and wheat.   The 14% pre-fermented sprouted flour that included all of the 27.5% extraction hard bits of the whole sprouted grains and some of the 72.5% extraction for the 3 stage levain. That was retarded for 24 hours when it reached its double after the 3rd feeding.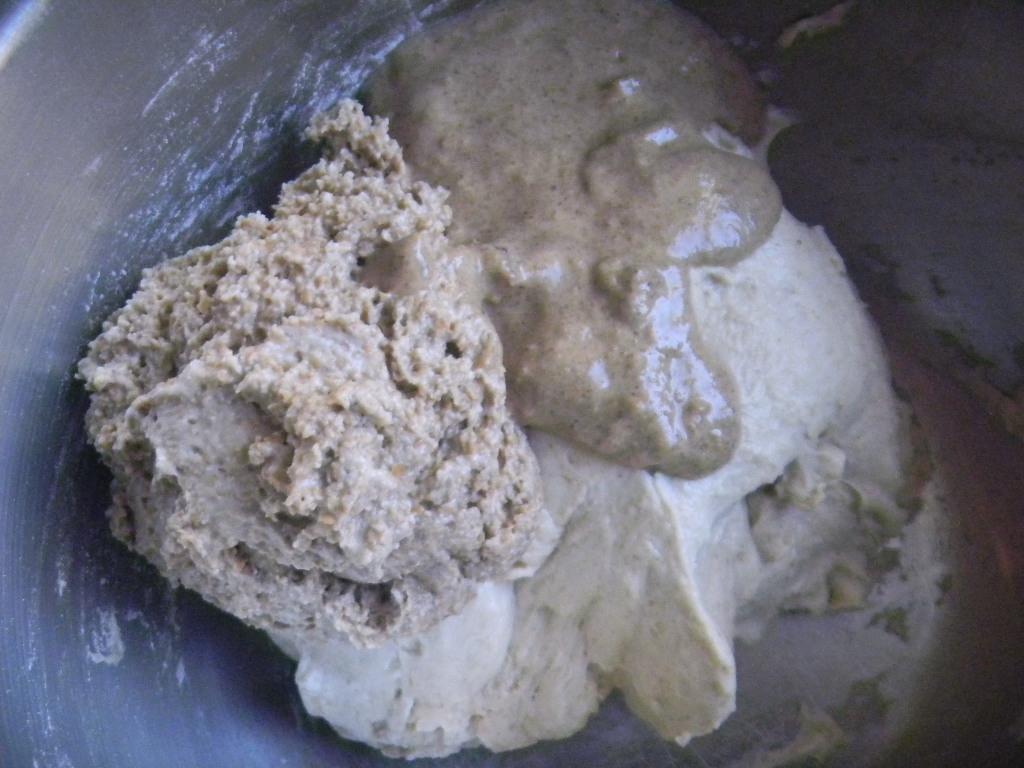 She also baked up 20 g of the 72.5 % extraction sprouted grain with 5 g each of red and white malt and 30 g of water at 140 f for 2 hours, stirring every half hour and topping it back up to 60 g total after the bake.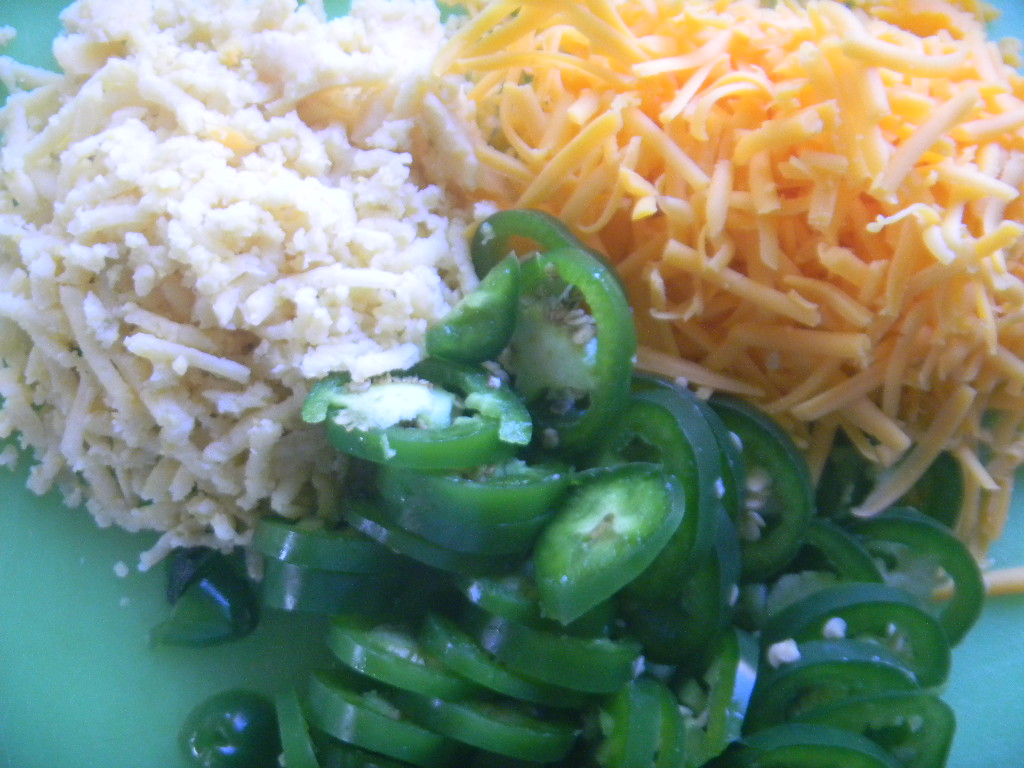 We autolysed the dough flour and water for 2 hours as the levain warmed up without the baked scald or levain but with the salt sprinkled on top.  One the levain and scald were added we did out usual 3 stets of slap and folds for 8, 1 and 1 minutes.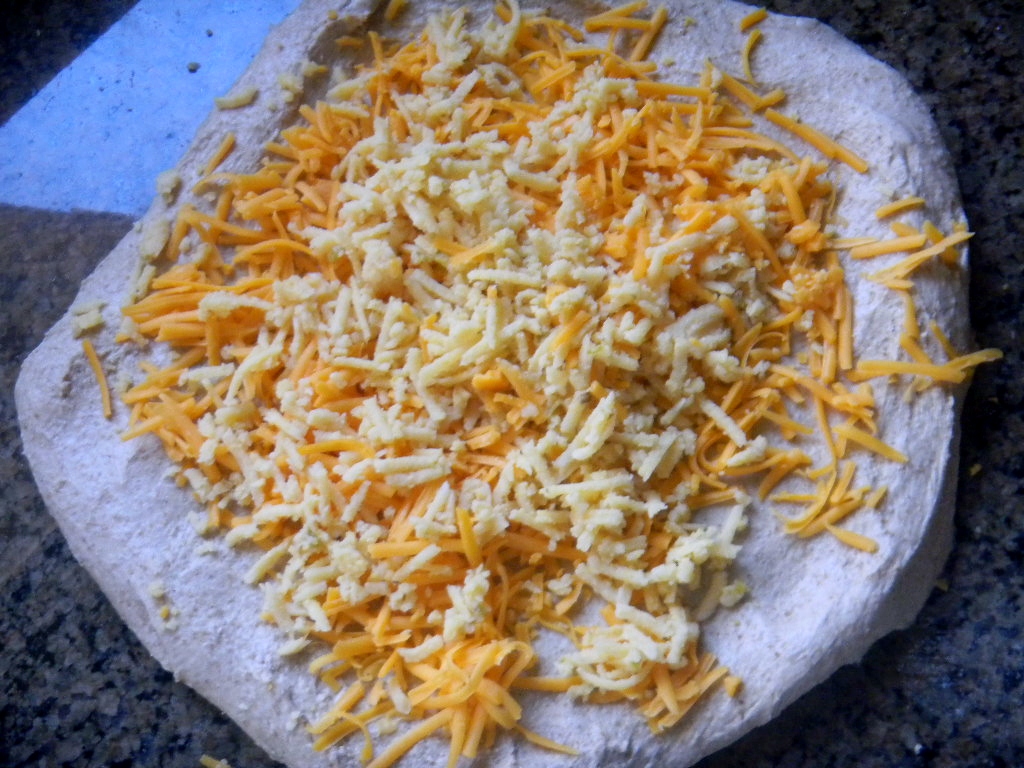 We shredded the cheese and the polenta and added it on the first set of stretch and folds and then sautéed the jalapenos so that they could be added during the 2nd set.  After the 3rd set we pre shaped and then shaped the dough into a boule, placed it into a rice floured basket, bagged it and let it ferment on the counter for 1 hour – which later turned out to be a mistake.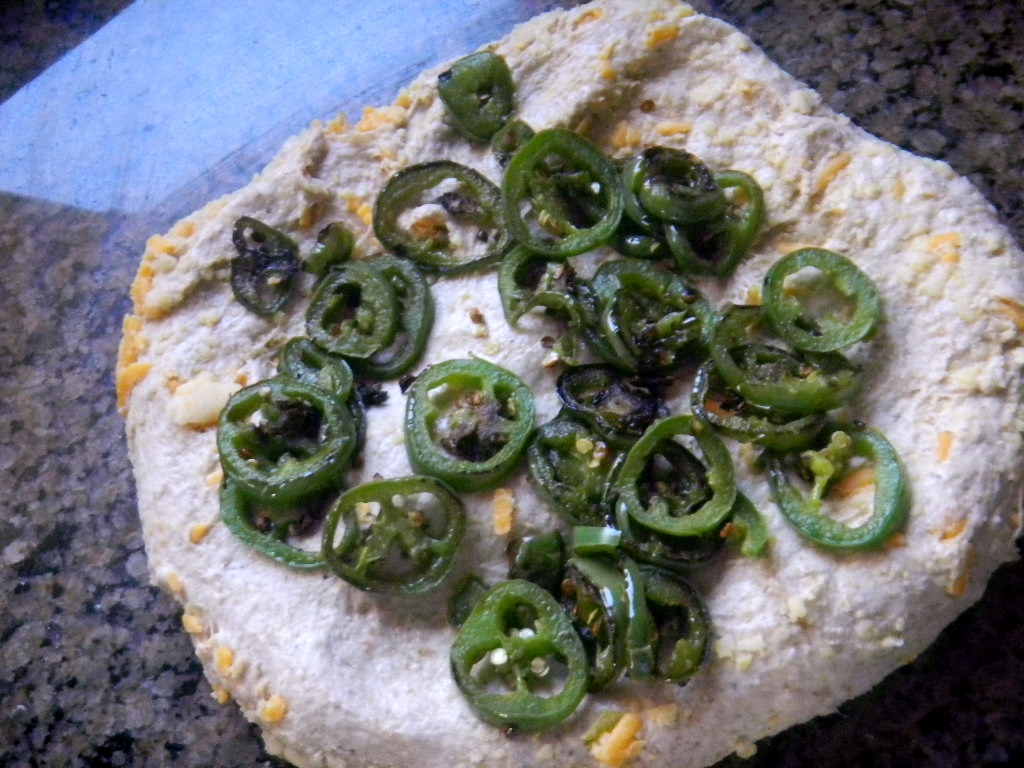 We than retarded the shaped dough for 13 hours (1 hour longer than usual – also a mistake).  When we took it out the next morning, the dough looked to be fully proofed.  So we fired up BO Betsy  to 500 F with the combo cooker on the bottom stone.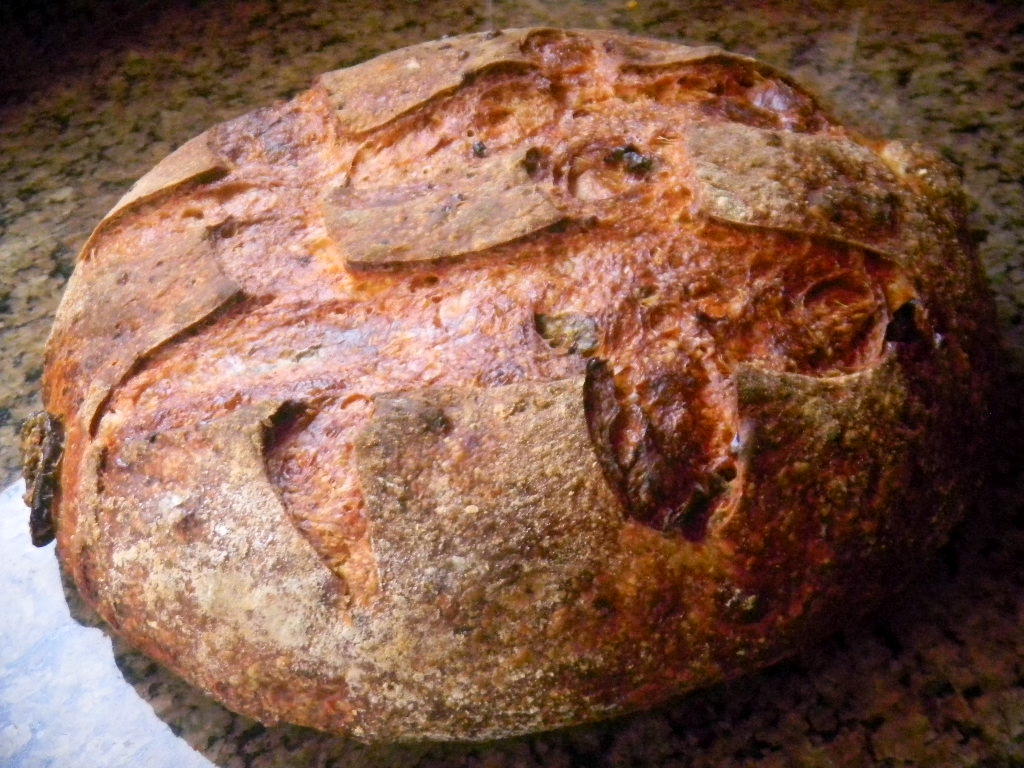 Once it hit 500 F we un-molded the boule onto parchment, slashed it and slid it onto the bottom of the CC with a peel while turning the oven down to 450 F for 18 minutes of steam.  We knew we were in trouble when the dough started to deflate when slashed, but we hoped it would recover.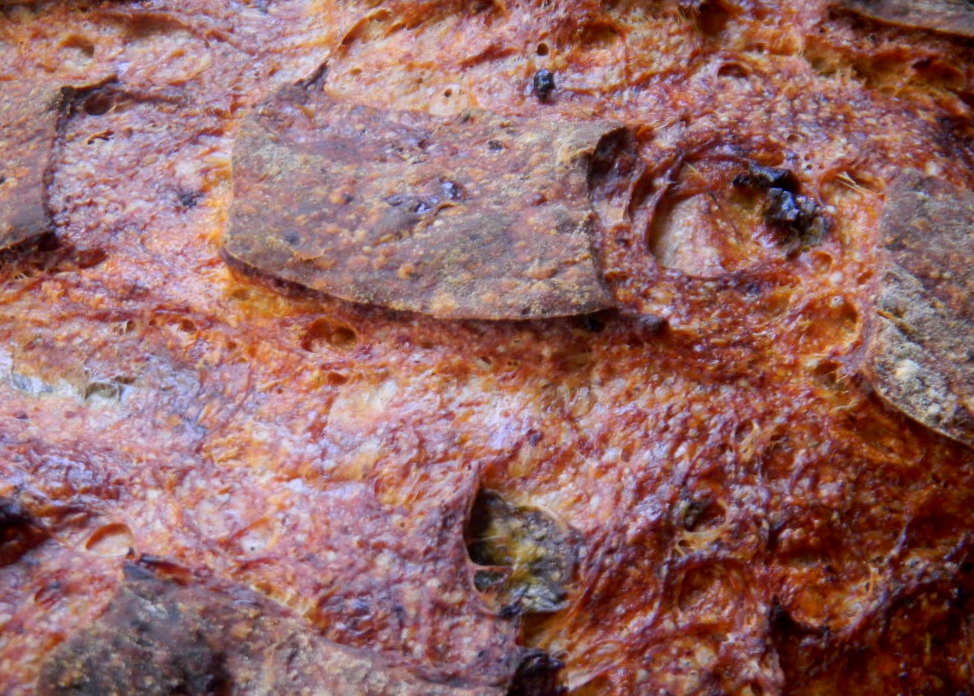 When the lid came off we turned the oven down to 425 F, convection this time and continued baking for 5 minutes when we took the boule off the Combo bottom and put it on the stone to finish.  10 minutes later it read 208 F when we turned the oven off and left the boule on the stone for another 5 minutes to get really crisp before removing it to the cooling rack.  It smelled fantastic.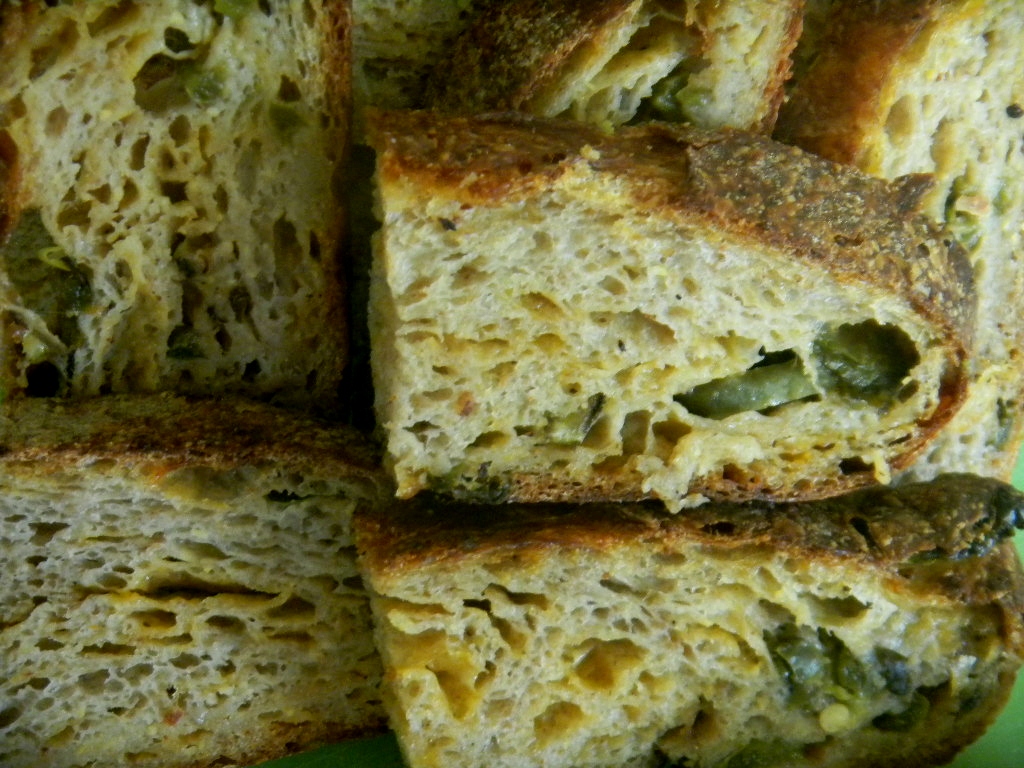 Lucy forgot we are now in AZ summer mode that requires no bulk ferment, a maximum 12 hour shaped retard and baking it cold out of the oven so it doesn't over proof as we sleep.  None the less, it spread out to bloom, didn't spring at all but browned up beautifully.  Can't wait to taste this bread for lunch when it finally cools down. The crumb was very soft adn moist which made it difficult to cut without mooshing it – the height was already pretty well mooshed 🙂  The crumb was fairly open with so much stuff in it.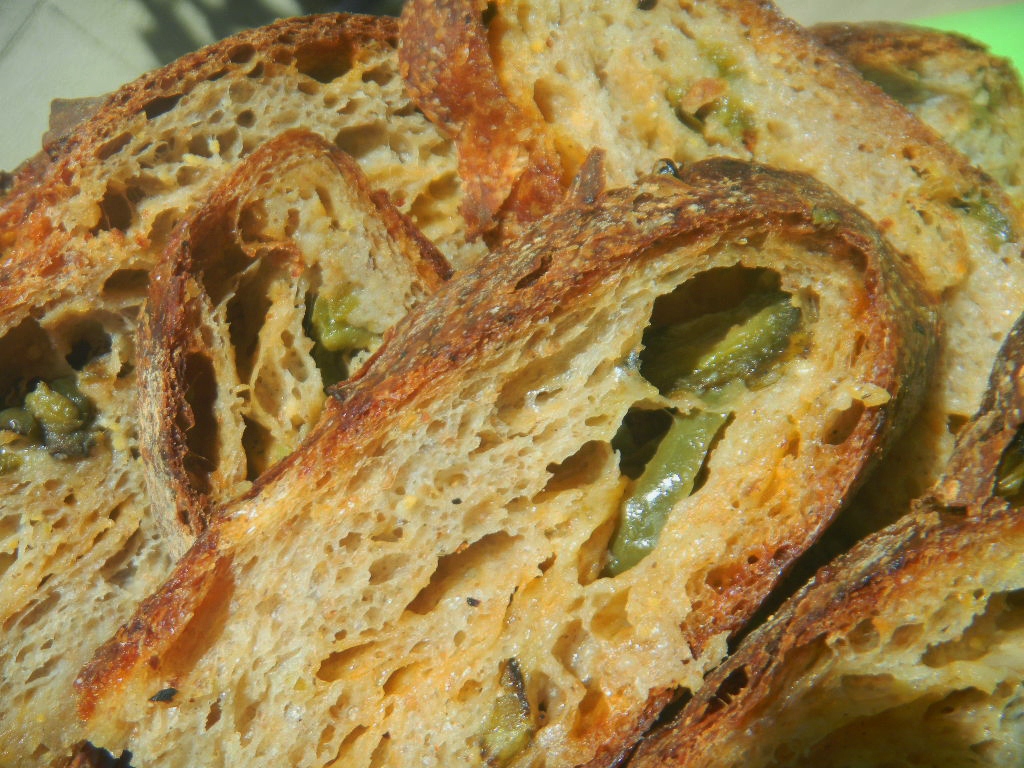 It was very tasty bread indeed.  Just love it that the cheese really came though but……… I bet my wife won't like it too much since the jalapenos really put some heat to this bread – they were extra spicy and there were plenty of them.  Perfect with a couple light colored and very cold cervesas.   I so wish my Baking Apprentice 2nd Class had a head transplant before today's bake though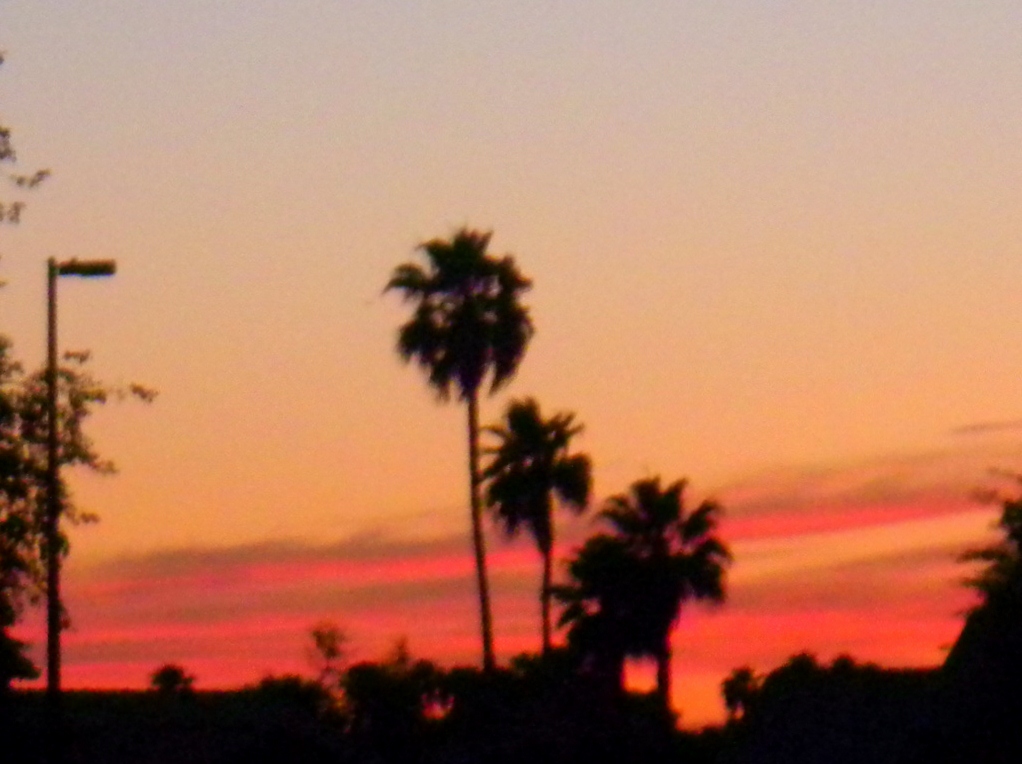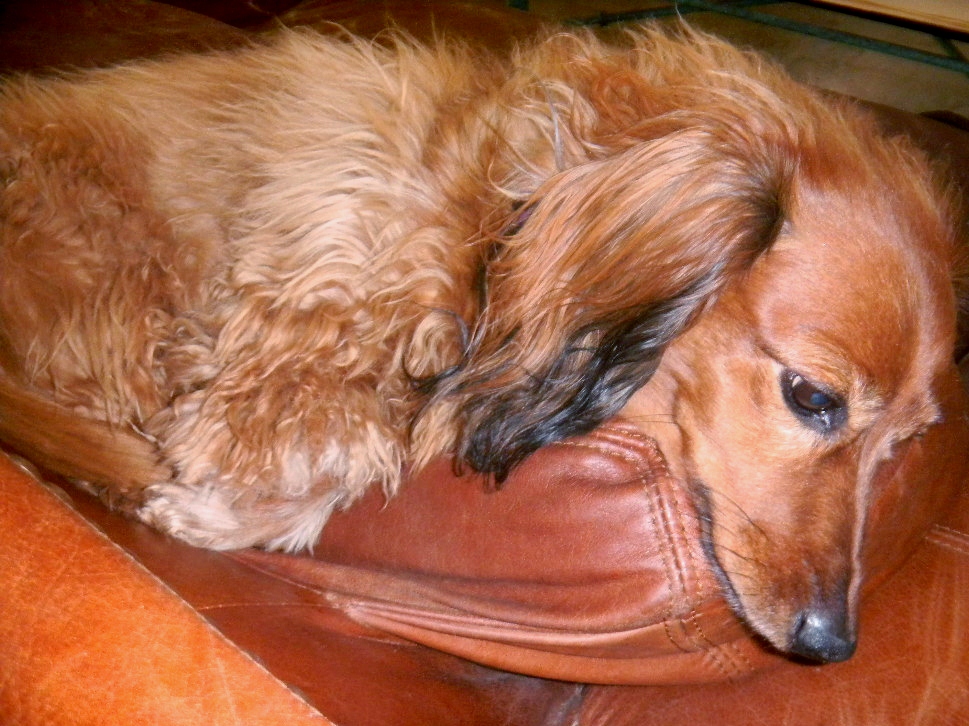 SD Levain Build

Build 1

Build 2

 Build 3

Total

%

4 week Retarded Rye Sour

8

0

0

8

1.95%

72.5% Extraction Sprouted 4 Grain

0

3

12

15

3.65%

Sprouted 27.5% Extraction 4 Grain

8

13

20

41

9.98%

Water

8

16

32

56

13.63%

Total

24

32

64

120

29.20%

 

 

 

 

 

 

Levain Totals

 

%

 

 

 

Sprouted 4 Grain Flour

60

14.60%

 

 

 

Water

60

14.60%

 

 

 

Levain Hydration

100.00%

 

 

 

 

 

 

 

 

 

 

Dough Flour

 

%

 

 

 

Winco AP & Bread Flour 50/50

250

60.83%

 

 

 

72.5% Extraction Sprouted 4 Grain

71

17.27%

 

 

 

Total Dough Flour

321

78.10%

 

 

 

 

 

 

 

 

 

Salt

8

1.95%

 

 

 

Water

220

53.53%

 

 

 

 

 

 

 

 

 

Dough Hydration

68.54%

 

 

 

 

Total Flour w/ Starter & Scald

411

 

 

 

 

Water

310

 

 

 

 

 

 

 

 

 

 

Hydration with Starter

75.43%

 

 

 

 

Total Weight

1,089

 

 

 

 

% Whole Sprouted Grain

39.17%

 

 

 

 

Fresh Jalapeno

100

24.33%

 

 

 

Cheddar Cheese

100

24.33%

 

 

 

Cheese & Jalapeno Polenta

100

24.33%

 

 

 

Red and White Malt

10

2.43%

 

 

 

 

 

 

 

 

 

The baked scald is 20 g of sprouted 4 grain 72.5% extraction

 

 

plus 5 g each of red and white malts with 30 g of water

 

 

 

 

 

 

 

 

 

4 grain sprouted flour is equal amounts of wheat, rye, barley & spelt

 

 

 

 

 

 

 

The (3) jalapenos were sauted before beong added

 

 

 

to the mix to mello then out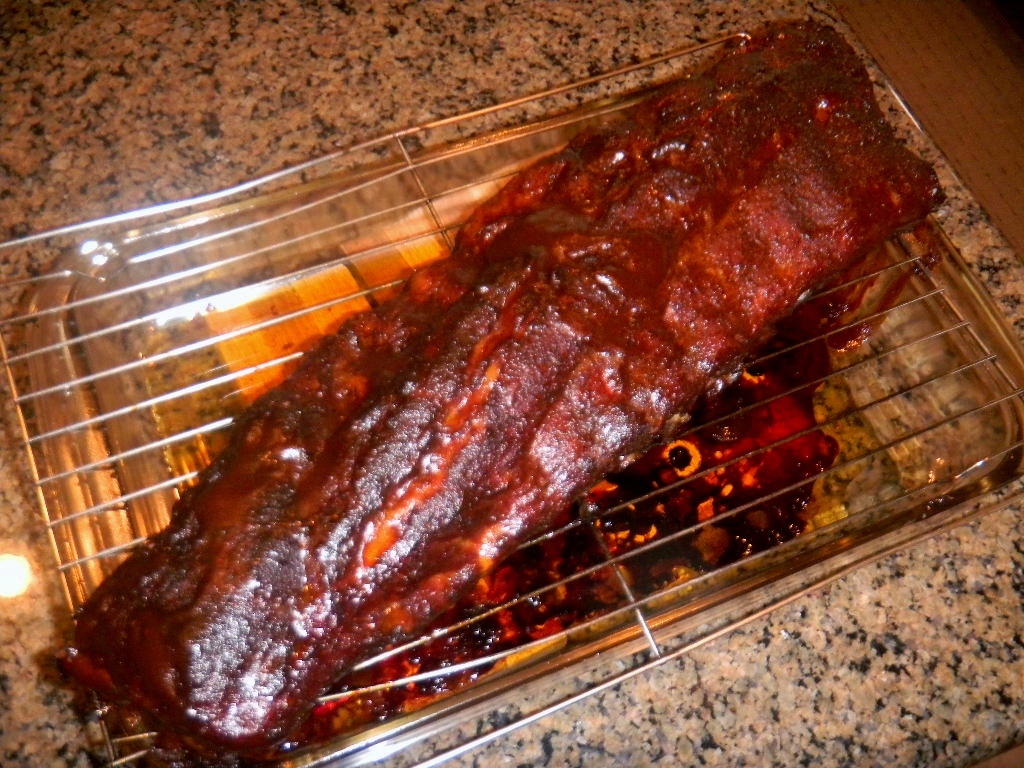 Lucy says if you are going to have the ribs then have a salad too!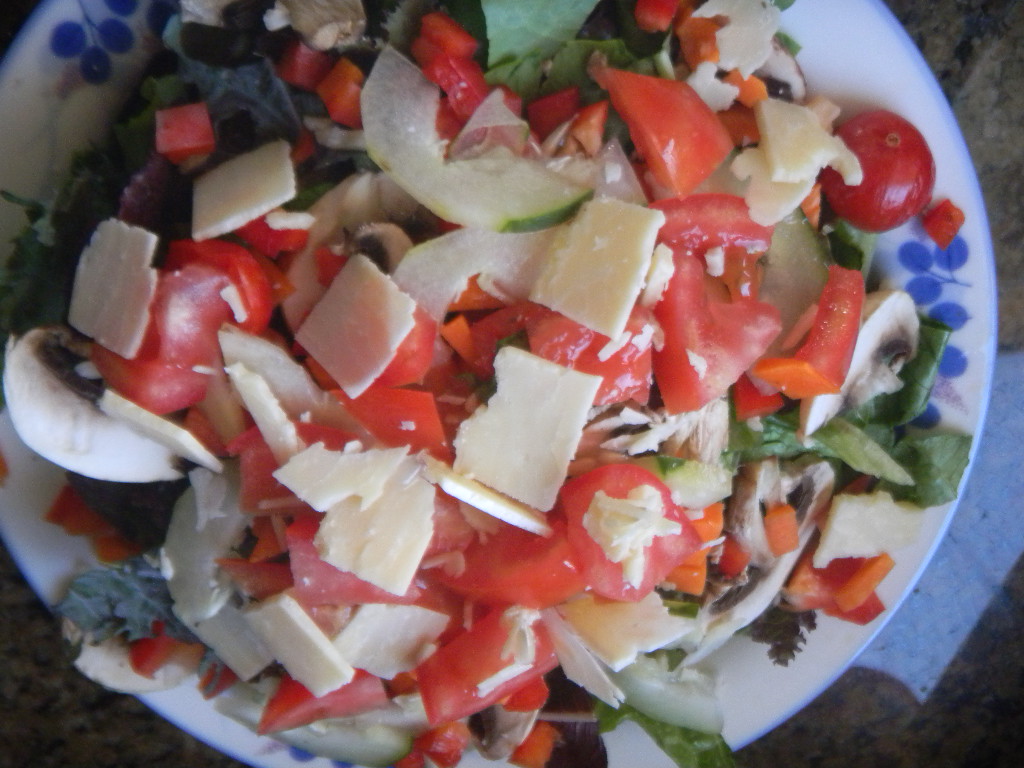 Source: Fresh Loaf