Sprouted Ancient Grain Valentine's Day DaBialotta's
Submitted by
dabrownman
on February 6, 2015 – 11:31am.
After making some Mexican influenced bialy's last year and rightly catching heck from the onion and poppy seed bialy purists that the Mexican creation really can't be called bialy's, joyfulbaker came up with a new name for them – bialotta's since they carry on Lucy's penchant for mega topping and add ins.  Lucy added the Da in front and now they are called DaBialotta's.  The original Dabialotta's can be found here: Herbed Bialy's – Multigrain, Caramelized Onion, Chorizo and 4 Cheeses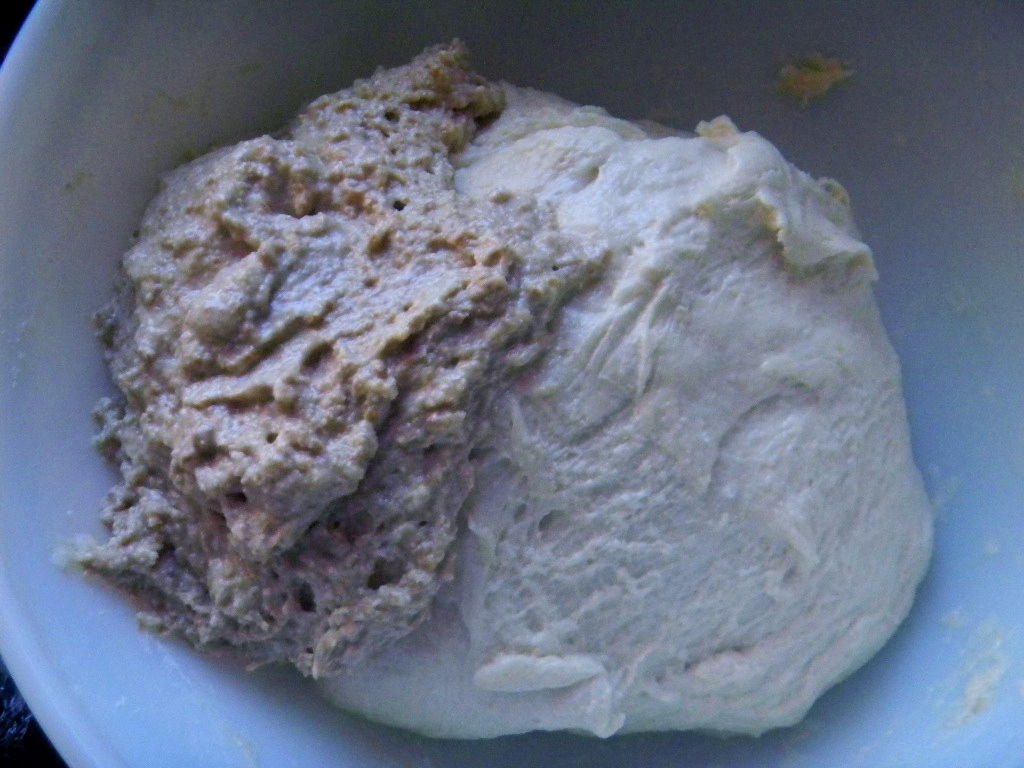 For Valentine's Day in the past, we have made pink buns using beets found here: Sourdough Pink Valentine Hamburger Buns.  So Lucy though she would combine the pink with the DaBialotta's and make this year's Valentine's Day Bake one to remember for being really pink and weird at the same time.  We love balking twofers around here more than just about anything except possibly Megafers.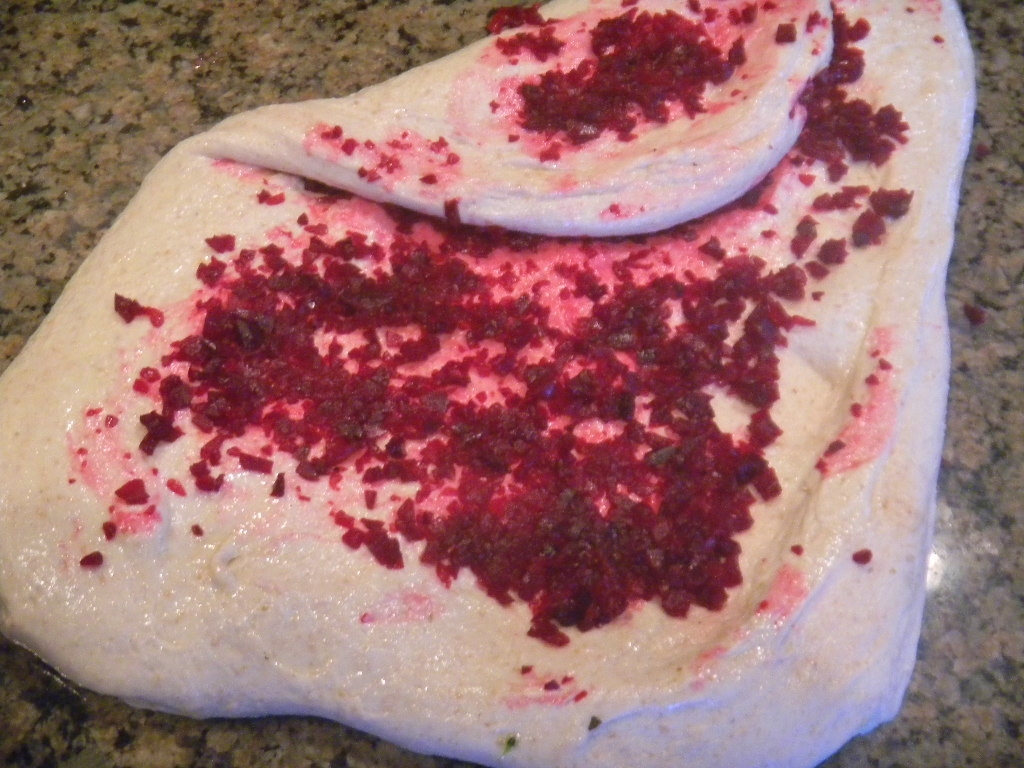 In the past the Dabialotta's were made with yeast water but this year, since we were going pink we made them with rye SD starter only.  We also put a mix of some home milled ancient grain sprouted flour, consisting of emmer, spelt einkorn and Desert Durum and some Ramona Farms Pima Club and Sonoran White that the Pima Indians are trying to bring back from the dead on their reservation .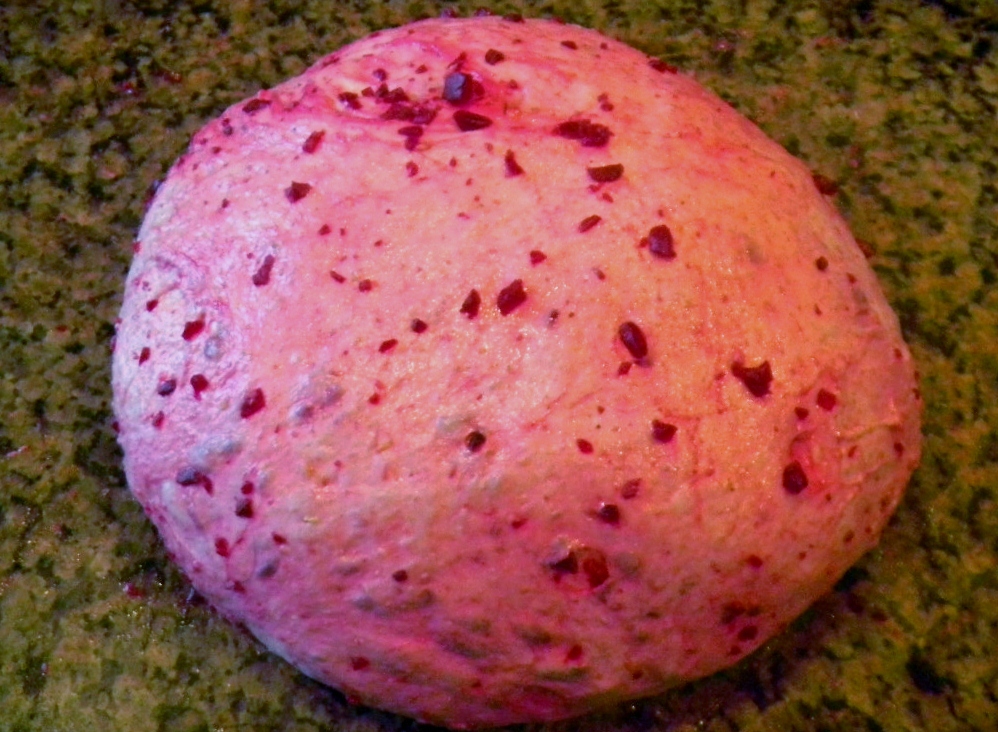 My 2nd class apprentice still managed to mess up the method when she forgot to add the chopped roasted beets in during the first set of stretch and folds.   We did our usual 3 stage levain build and retarded it for 24 hours and the 1 hour autolyse as the levain warmed up on the heating pad the next day.  We also did the usual 3 stets of slap and folds on 8,1,and 1 minute before doing the 3 sets of stretch and folds.  All the dough development was on 20 minute intervals.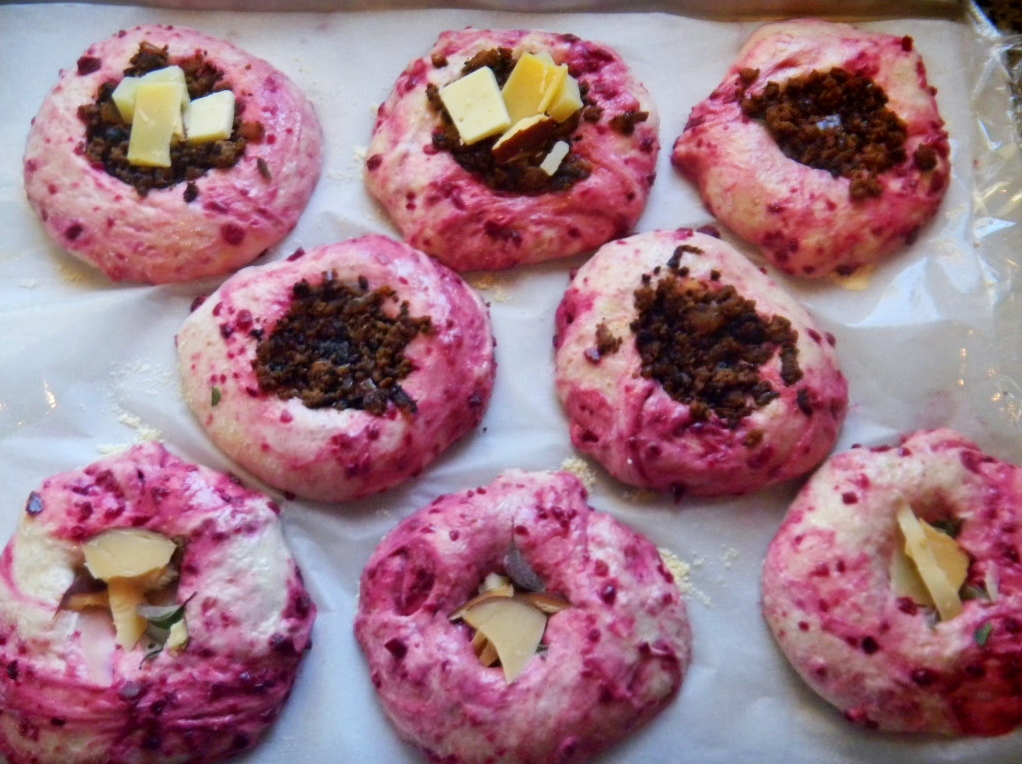 We4 then bulk retarded the dough in an oiled bowl for 12 hours.  The next morning, without letting the dough warm up we did 2 sets of additional stretch and folds to incorporate the chopped roasted beets.  Don't let the 75% hydration fool you.  The beets really made for a sticky mess once they were incorporated and the dough felt like 80% hydration with not enough whole grains to soak up the excess water.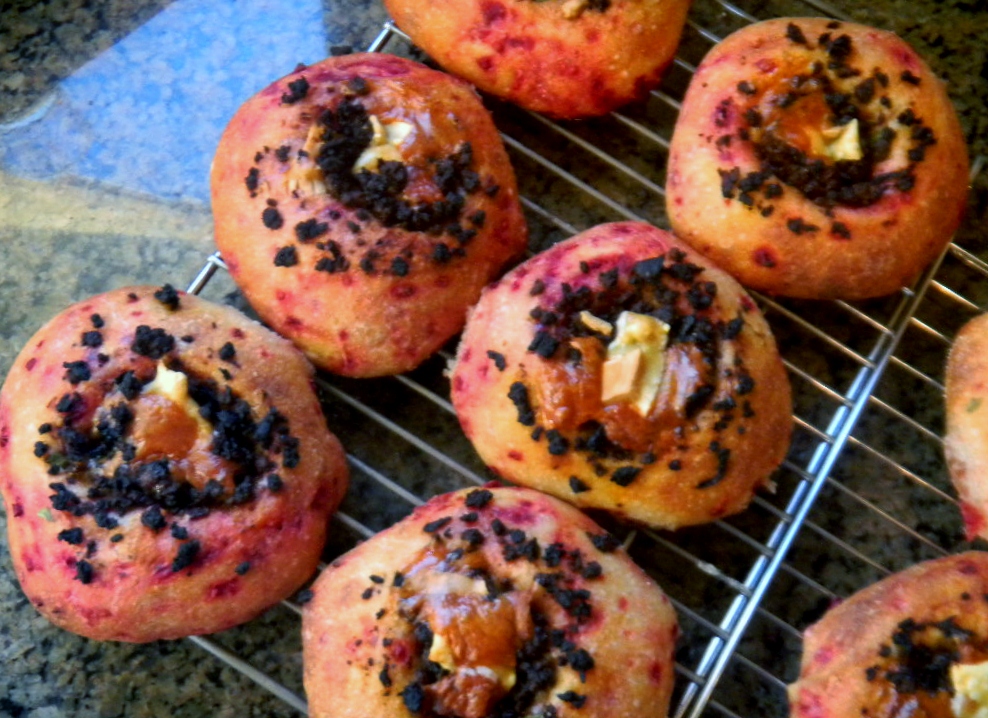 We divided the dough into 8 pieces and folded them into balls and placed them on a baking sheet covered with parchment and semolina flour.  Every half hour we used a spoon to hollow out the 'bialy' hole.  After and hour and a half we started to fill the cavity starting with fresh oregano on the bottom followed by a piece of pecorino then the home made chorizo and caramelized onion followed by the other cheeses including: aged smoked gouda, Rembrandt, aged white sharp cheddar and pepper jack.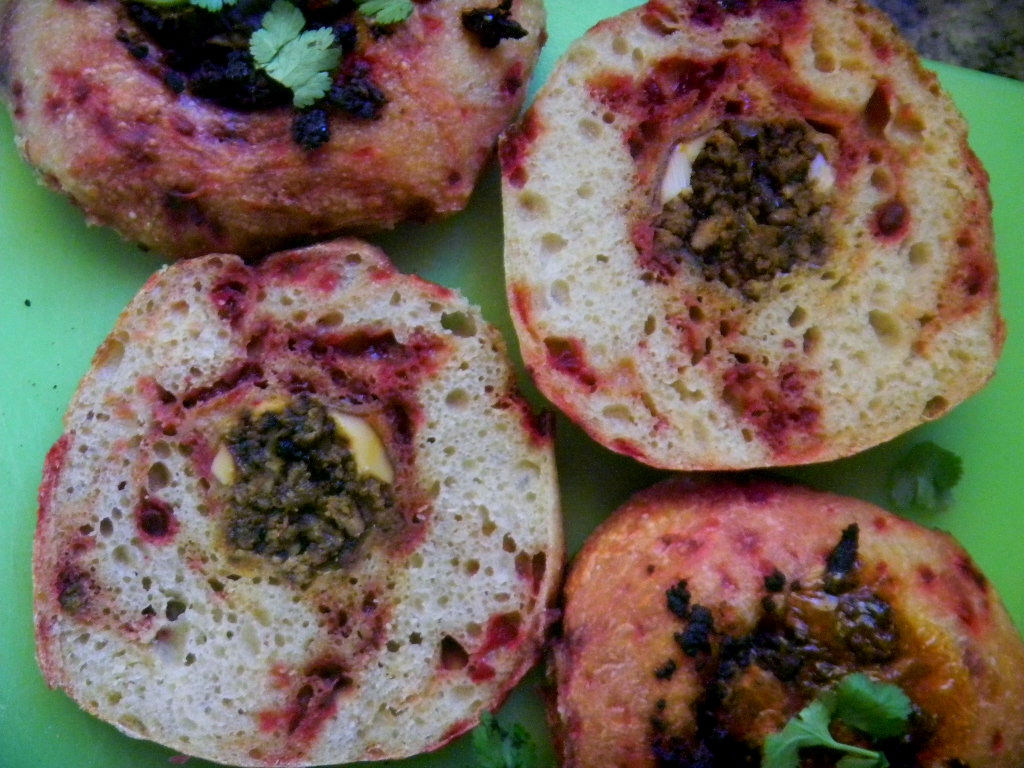 We fired up Big Old Betsy and once she hit 500 F we put in the Mega Steam which was billowing 15 minutes later.  We slid the baking sheet onto the middle rack between the two baking stones for 10 minutes of steam while turning the oven down to 450 F.  Once the steam came out we turned th oven down to 425 F convection this time and baking them for another 10 minutes until they read 210 F on the inside.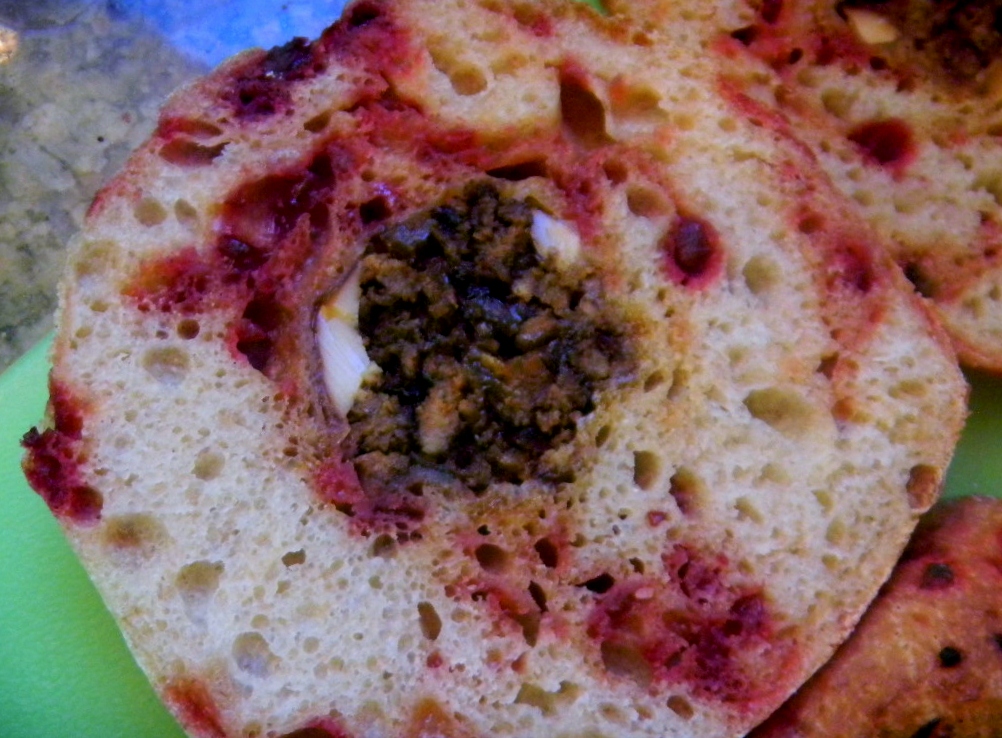 Yea! The pink stayed put as we hoped and they smelled great while baking.  They did blister but didn't brown up as much as usual because of the shorter baking time than usual.  Can't wait till they cool down so we can put some fresh cilantro on top and slice them open to see the crumb and have a taste.  Lucy says they sure look Valentineyish to her.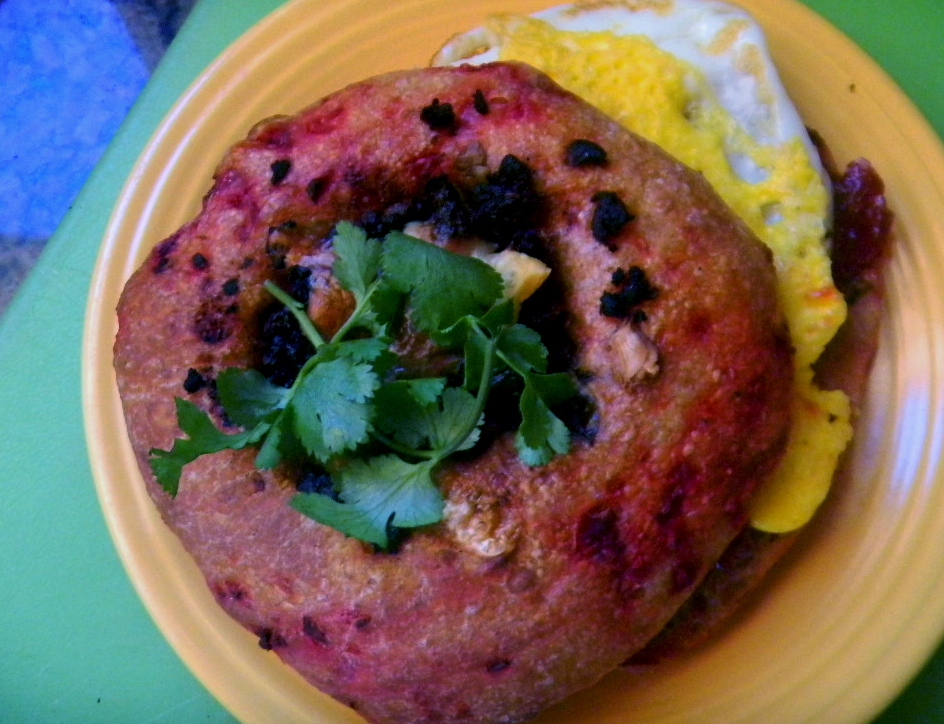 .The perfect breakfast egg DaBaily with home made raspberry jam.- yummy!  Then there was that not so good looking Indian lamb curry that tasted fantastic!
The crumb came out pinky, fairly open even with the extra manipulation of forgetting to put the beets in, moist and glossy.  The taste is unique with the beets lending a sweet note to the sour dough.  The oregano is subtle with the spicy home made chorizo shining next to the various cheeses.  We loved this near sammy for a lunch today.  Very tasty indeed.   
SD Levain Build

Build 1

Build 2

 Build 3

Total

%

2 Week Retarded Rye Sour Starter

10

0

0

10

1.76%

66% Extraction Sprouted Ancient Grain

0

0

33

33

5.81%

34% Extraction Sprouted Ancient Grain

10

20

7

37

6.51%

Water

10

20

40

70

12.32%

Total

30

40

80

150

26.41%

 

 

 

 

 

 

Levain Totals

 

%

 

 

 

Sprouted Flour

75

13.20%

 

 

 

Water

75

13.20%

 

 

 

Levain Hydration

100.00%

 

 

 

 

Levain % of Total Flour

13.20%

 

 

 

 

 

 

 

 

 

 

Dough Flour

 

%

 

 

 

66% Extraction Sprouted Ancient Grain

72

12.68%

 

 

 

Whole Pima Club and Sonoran White Wheat

61

10.74%

 

 

 

KA Bread, Sprouts Unbleached & La Fama AP

360

63.38%

 

 

 

Total Dough Flour

493

86.80%

 

 

 

 

 

 

 

 

 

Salt

11

1.94%

 

 

 

Water

352

61.97%

 

 

 

 

 

 

 

 

 

Dough Hydration

71.40%

 

 

 

 

Total Flour w/ Starter

568

 

 

 

 

Water

427

 

 

 

 

Roasted Chopped Beets

88

15.49%

 

 

 

 

 

 

 

 

 

 

 

 

 

 

 

Hydration with Starter

75.18%

 

 

 

 

Total Weight

1,094

137

grams each

 

% Whole and  Sprouted Ancient Grain

35.74%

 

 

 

 

% Sprouted Ancient Grain

25.00%

 

 

 

 

 

 

 

 

 

 

Sprouted ancient whole grains include equal amounts of: emmer (farro), spelt, einkorn

and Desert Durum.  Non-Sprouted whole grains include Pima Club and Sonoran White.

 

 

 

 

 

 

Filling included: caramelized red onion, Mexican chorizo with pepper jack cheese

 

Rembrandt, aged white sharp cheddar, pecorino, aged smoked gouda cheeses and fresh oregano.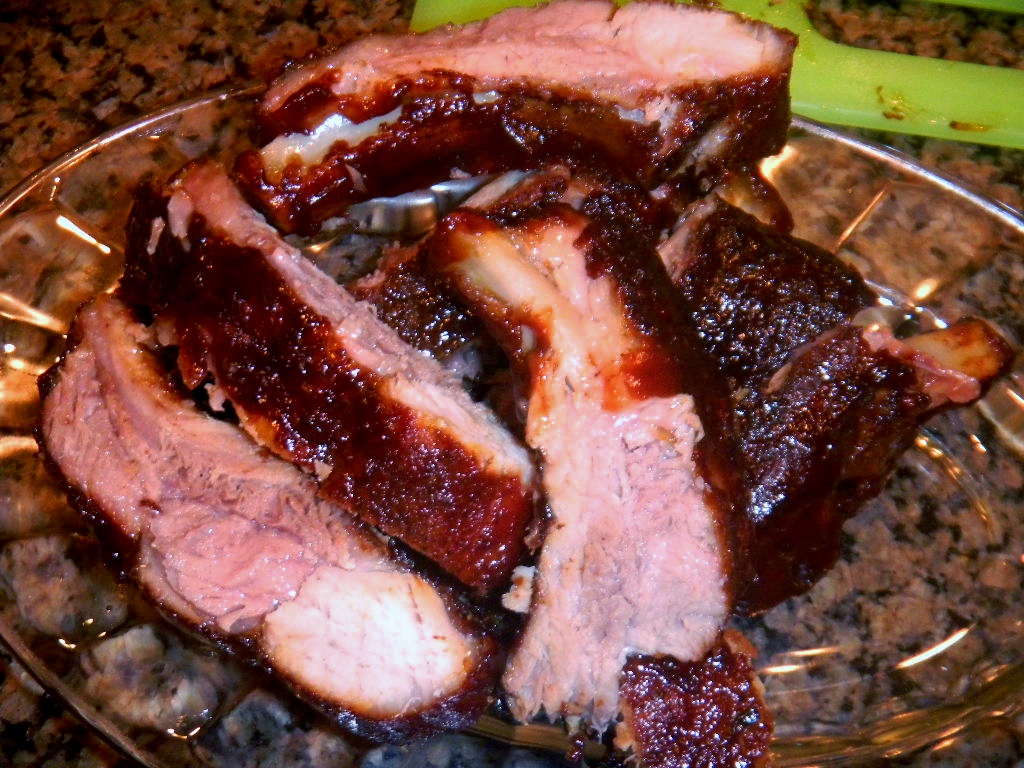 There were ribs for the Super Bowl and my wife made me a great home made chocolate ganache covered chocolate birthday cake and Lucy says ………..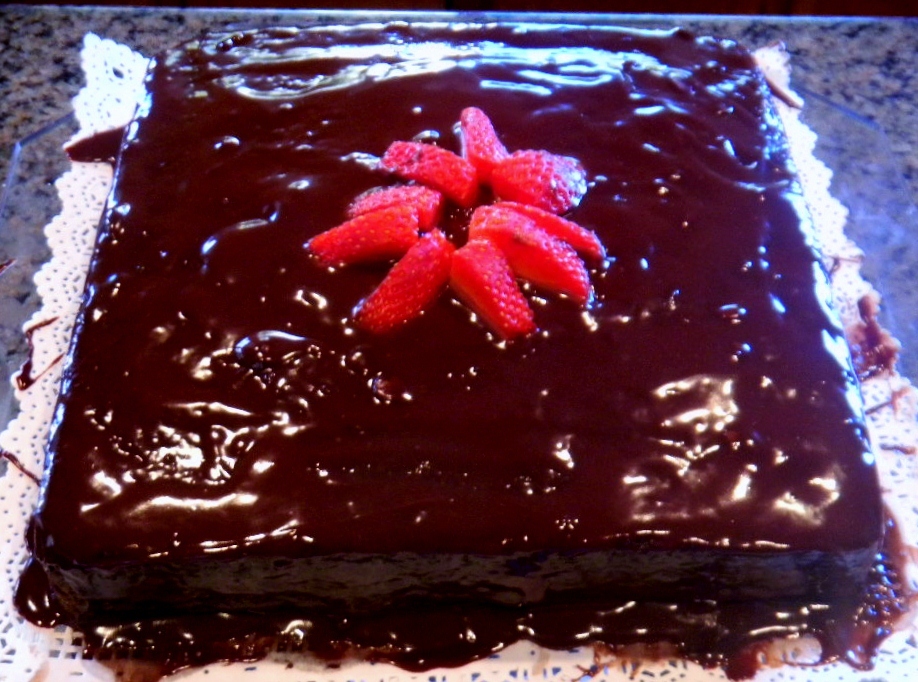 Don't forget the salad!  Happy Valentines Day to all!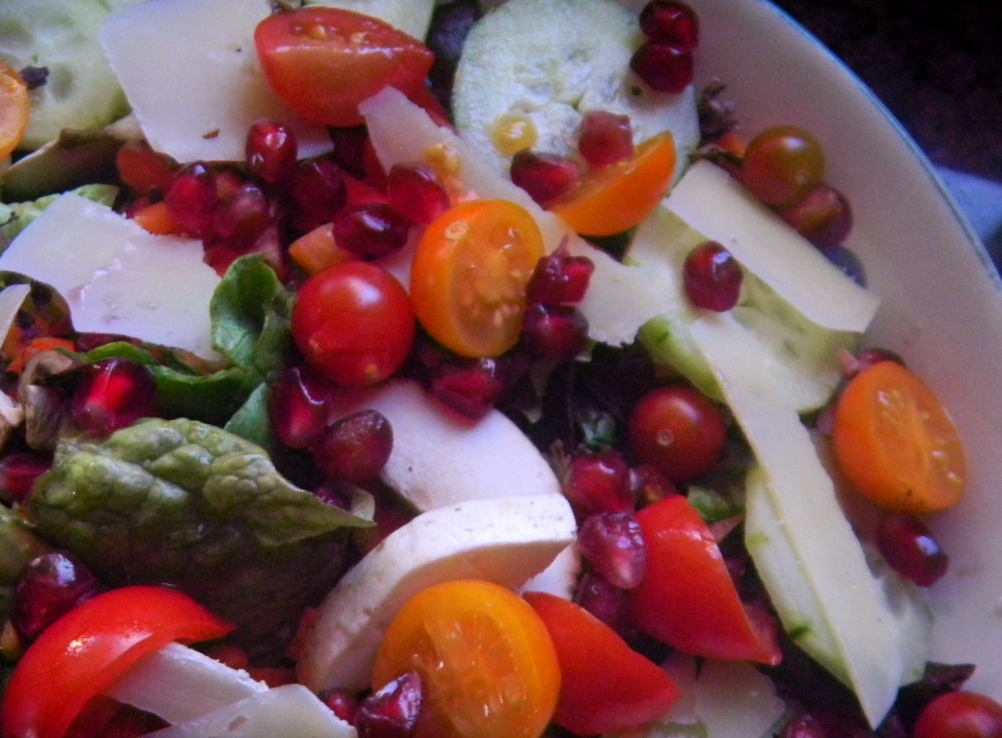 Source: Fresh Loaf