Still with the Raisin Pecan WW Levains, I see…
Submitted by
alfanso
on April 4, 2015 – 3:03pm.
 Why yes, I am.  But this time, I had to tear myself away from my standard Baguette Crusade.  My wife wanted me to try making a batard out of the same dough so that she could slice pieces large enough to ensure that the bread would serve as more than just a bite-sized snack.  And I had just enough left over for a skinny cross-hatched baguette.
The batard shaping was suspiciously simple, considering that I haven't shaped one since, oh, 2007, just prior to my self imposed 6+ year hiatus from baking.  Proofed on a couche instead of a banneton, and dusted with raw flour before proofing, for that "rustic" look.  The raw flour jazz is something that I rarely do.  But in the spirit of trying to reproduce a bread close to my model R-P WW Levain, dust them I did.  That model is also baked dark, and I believe that I succeeded at doing so here.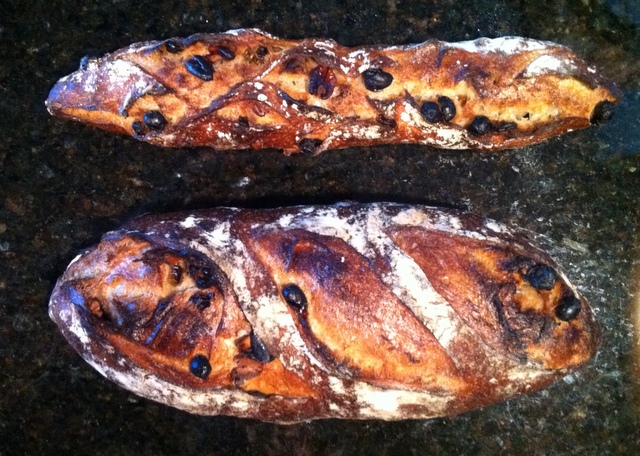 alan
Source: Fresh Loaf