wholemeal 100% not STRONG
Submitted by
ghazi
on March 5, 2015 – 8:37am.
If you take a look at these dark chocolate looking loaves. They might not look very pleasing to the eye, to me they exhibit everything you need in a healthy brown loaf without the heaviness of a strong flour. Ive been told I would struggle to make hearth breads (long fermented) with this local wholemeal flour used in our traditional cooking. It took a long time and now I am so happy to finally have something that is available (milled) right at home.
This is what I did.
1kg wholemeal flour
700ml water (Autolyse 1.5 hours)
19g salt
100g WW starter @ 90% hydration
After autolyse I added an extra 50-60 gwater to make for a roughly 75% hydrated dough. I keep adding more until I feel the dough cant drink anymore, something my hands have learned to feel
Left to sit for about 30 min, then did about 8 min of snake rolls and basic kneading. Snake rolls is when I roll up dough tightly and quicjly in sudden movements roll into a snake being very abrupt and rolling up tightly again. I like this form of kneading (massaging the dough).
Left to rest for about 45 min to an hour, after dough activated and rises with visible bubble I do first Stretch and fold. 2 more stretch and folds every 30 – 40 min. Then into the fridge until the next day in which I take out bench rest 2 shaped loaves for a good 20 min to realx the gluten. Then after shaping leave to peove util 80-85% proof and into hot oven with steam. turn down to 150C to cook the whole length of time which is about 1 hour roughly. I like baking at low temp , just making sure oven is very hot WHEN bread goes in.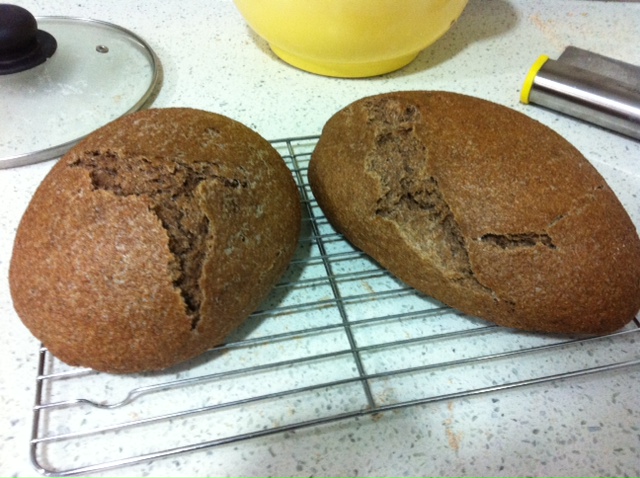 Source: Fresh Loaf