Yeast Buns with Rosemary, Sun Dried Tomato, Caramelized Onion & Mushrooms
Submitted by
dabrownman
on June 15, 2015 – 3:37pm.
While smoking this fine Tuscan Chicken for Sunday dinner, I tossed in 3 Hot Italian sausages about half way through to have some smoked sausages on Monday night.  I forgot we didn't have any buns and were out of time this morning some SD or YW ones.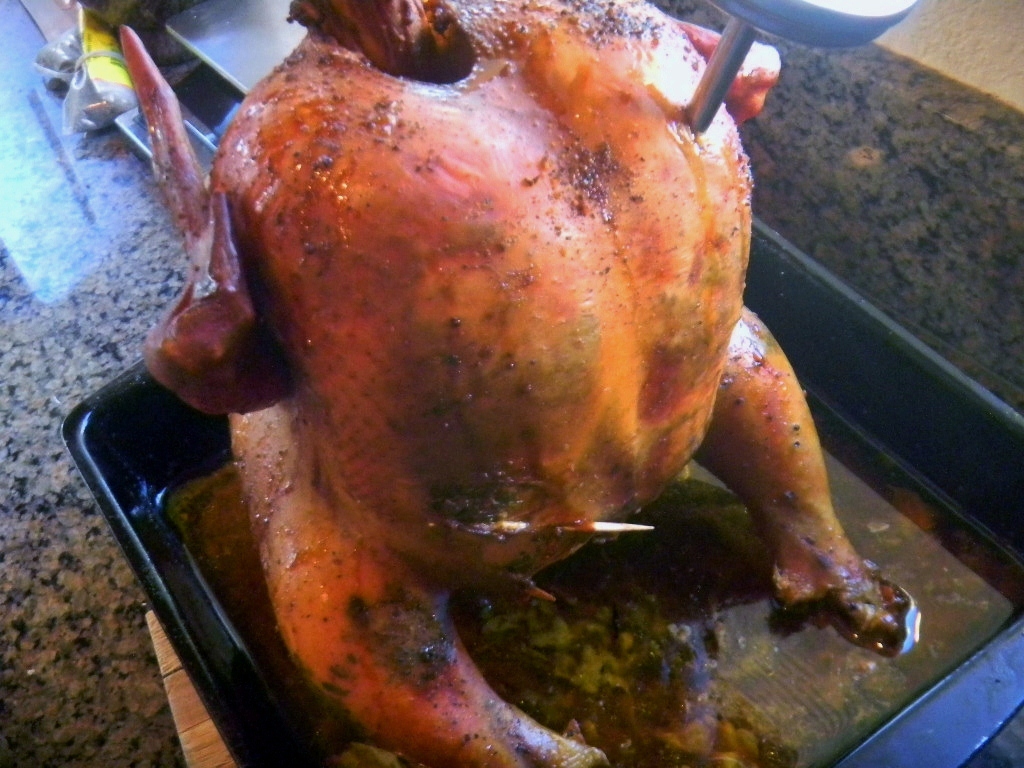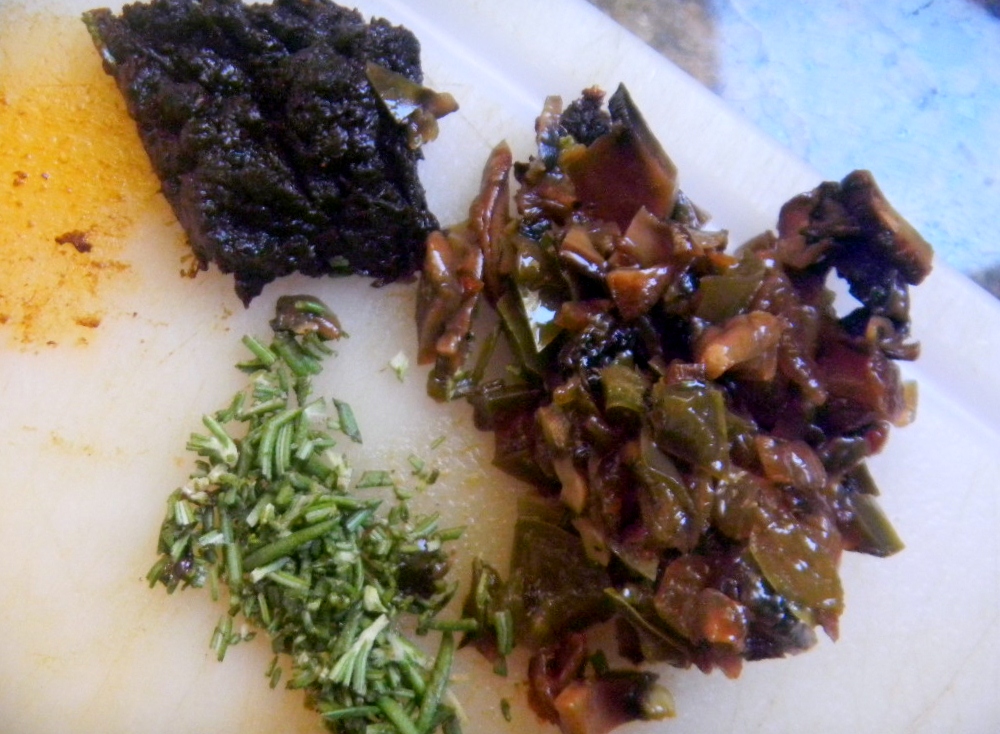 Lucy whipped a quick semi enriched dough that didn't have any eggs in it that looked like this. 130 g each LaFama AP and KA bread flour, 32 g of butter, 184 g of water, 10 g of NFDMP, (non fat dry milk powder),  and 5 g each of instant yeast, sugar and salt.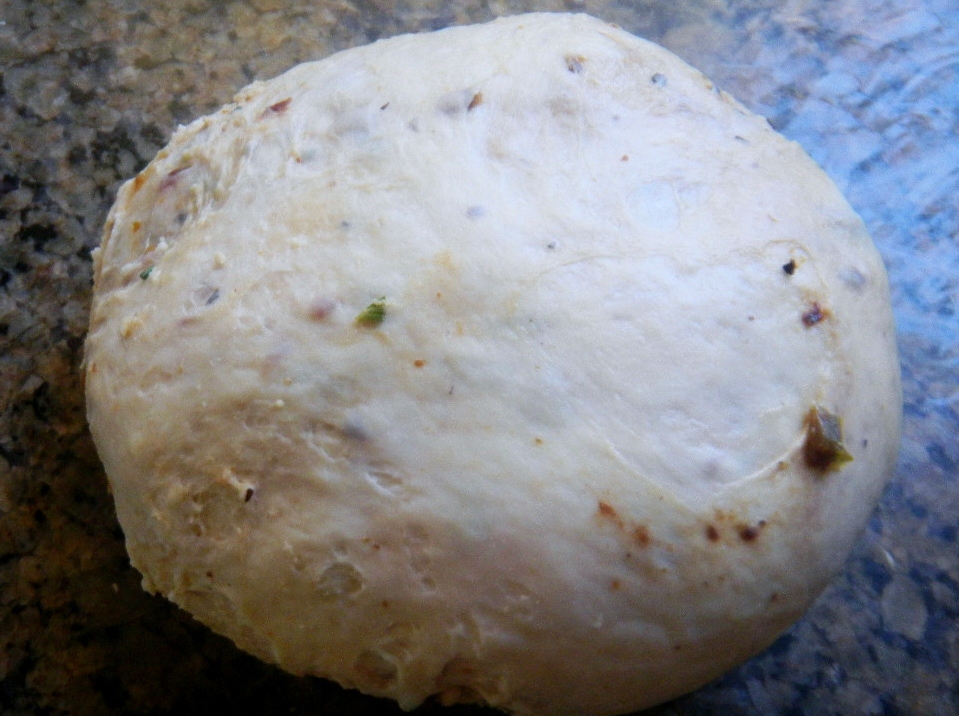 This is our fairly standard, quick bun recipe.  We do 10 minutes of slap and folds then 2 more sets of 10 slaps each on 15 minute intervals and then do 3 sets of stretch and folds on 10 minute intervals.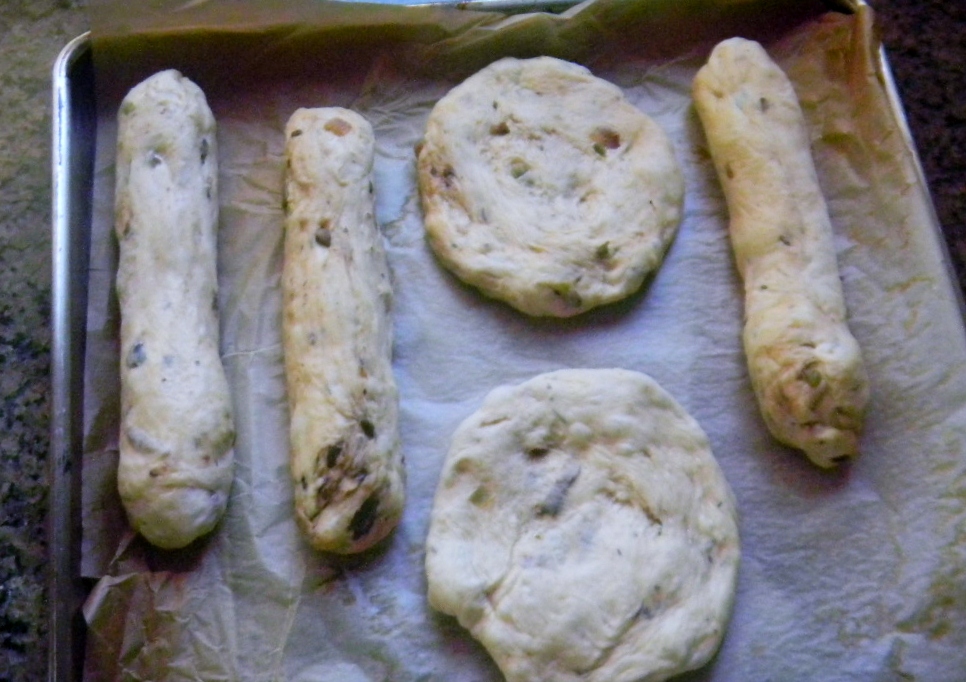 Since we were making the buns for smokes Italian sausages we decided to make the buns more Italian by adding 1 tsp each of fresh rosemary and sun dried tomato with some left over caramelized onions and mushrooms – about a heaping tablespoons worth.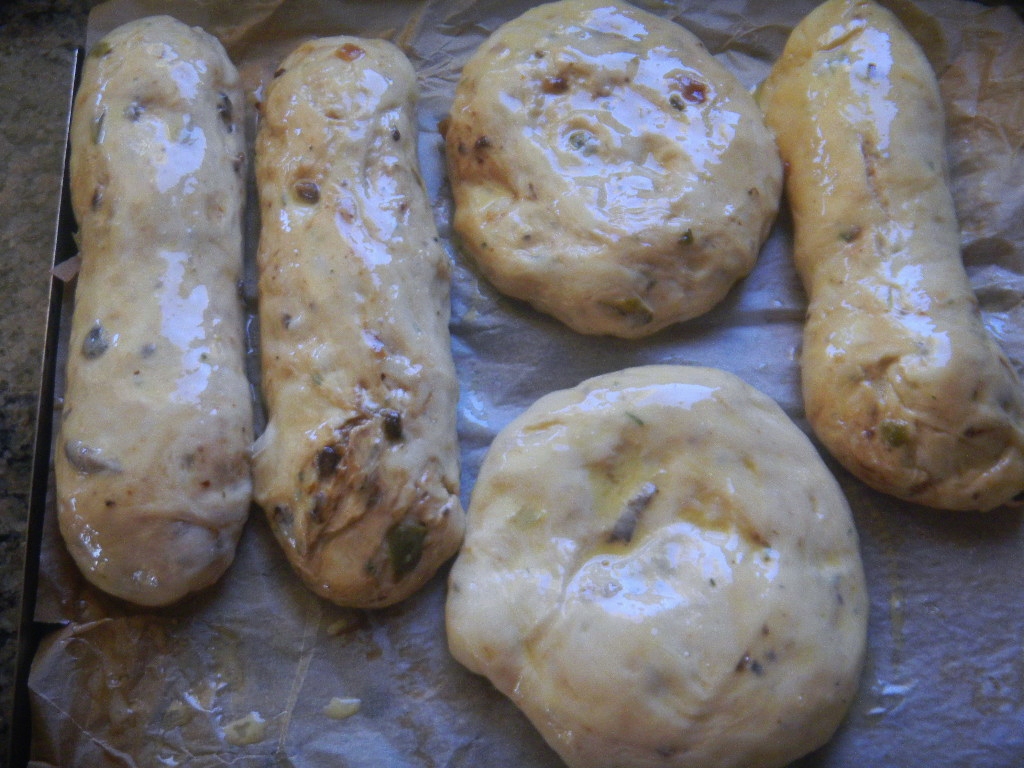 The add ins went in at the start of the first set of stretch and folds and after the 2nd set 15 minutes later we let the dough do a ferment of 30 minutes undisturbed.  We pre-shaped  3 sausage bums and 2 hamburger buns and then 5 minutes later did the final shaping – 100 g each as it turned out.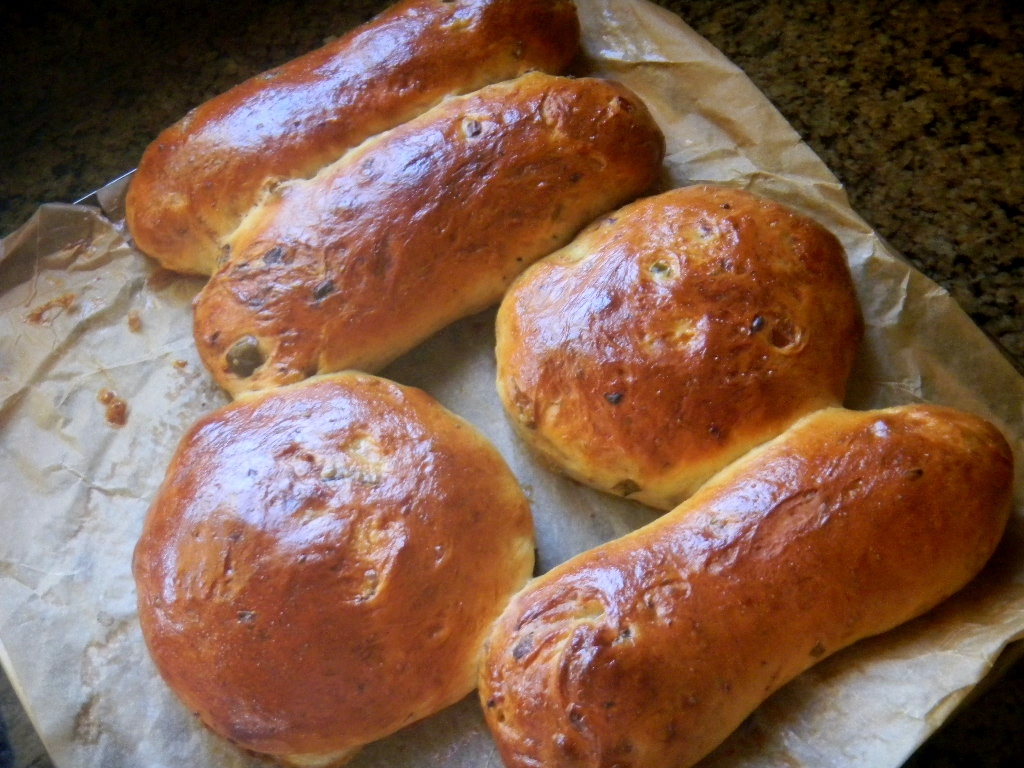 30 minutes later, we fired up the Mini Oven to 425 F – convection.  Once the Mini hit temperature we egg washed the buns and then 5 minutes later we washed them again before they went in the heat.  After 7 minutes we rotated the buns and turned the oven down to 400 F – convection and baked for 4 more minutes.  We then rotated the buns again and turned the oven down to 350 F baking the buns for 3 minutes with another rotation and 3 more minutes of heat – 17 minutes total.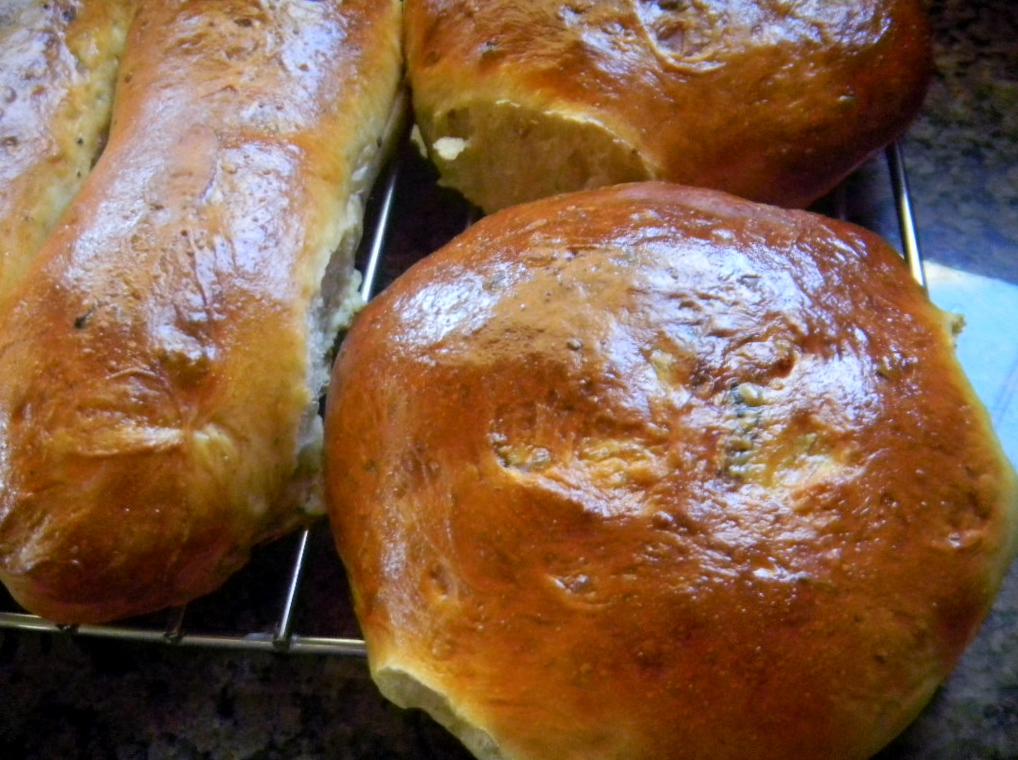 They puffed and browned up great and we washed them in butter when they came out of oven to keep the crust soft.  They looked and smelled delicious and we can't wait to have some sausages for dinner.  Will have to wait on a crumb shot but now we need to make some pickled onions, cucumber and peppers for a condiment.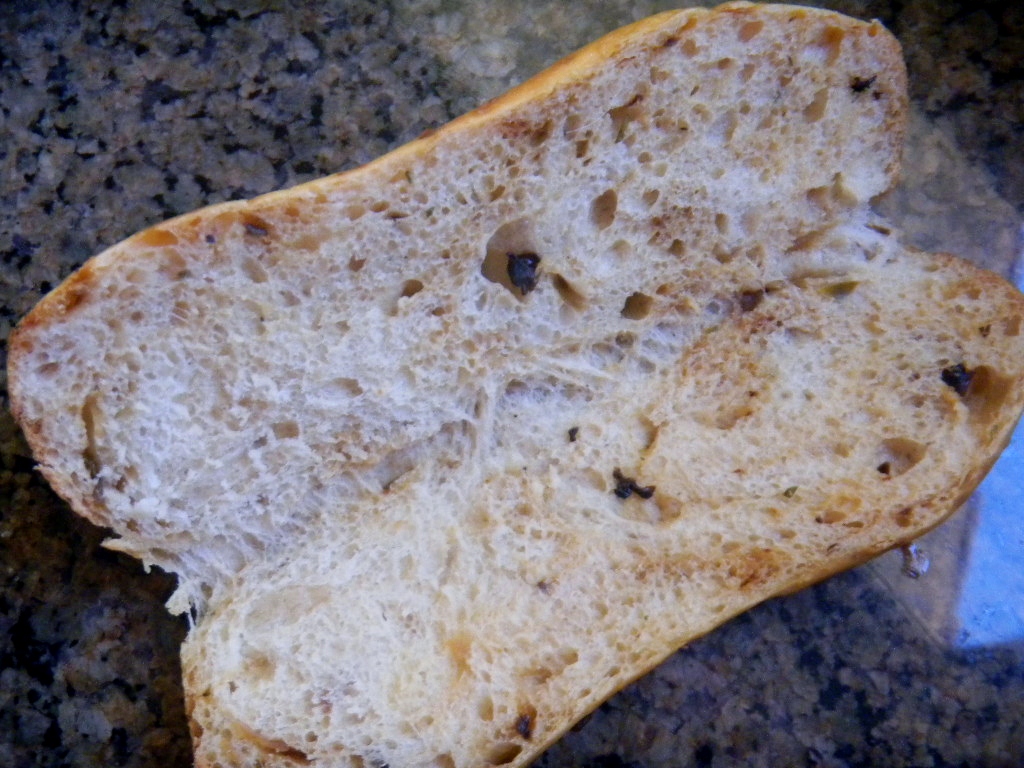 Source: Fresh Loaf